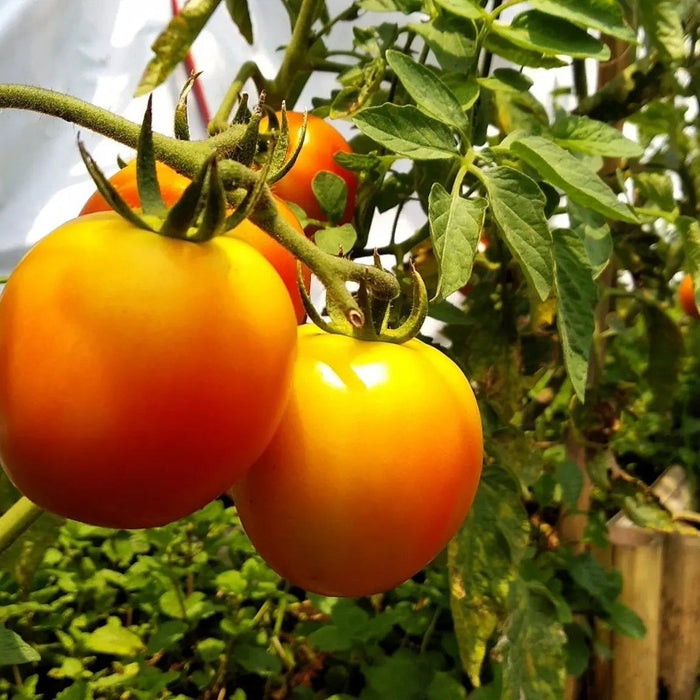 Tomato Seeds - Jubilee
Sold out
Original price
$2.00
-
Original price
$2.00
25 Seeds
75-89 Days to Maturity
Indeterminate Growth Habit
High-Yielding Plants
Meaty with Low Acid Content
Resistant to Alternaria Stem Canker
Golden-Orange Fruit
Historical All-America Selection
History:
Step back in time with the Golden Jubilee heirloom tomatoes. First introduced to the gardening world in 1943 as an All-America Selection, this variety carries with it tales of wartime gardens and post-war prosperity. The Golden Jubilee stands as a testament to the tastes and preferences of an era gone by, bringing with it stories of traditional gardening and tomato-based dishes enjoyed in American households.
Uses:
The Golden Jubilee's strength lies in its meaty, thick-walled structure, combined with its mild yet distinctly sweet flavor. Its golden-orange hue makes it a visual standout in salads and sandwiches. However, its meatiness makes it versatile enough for a variety of dishes, from fresh tomato soups to hearty sauces. The low acid content means it's gentler on the stomach, making it a favorite among those who love tomatoes but are wary of the acidity.
Growing Habits & Planting Instructions:
Golden Jubilee plants boast an indeterminate growth habit, meaning they will continually grow and produce fruit throughout the season. Start seeds indoors about 6-8 weeks before the last expected frost. Once the danger of frost has passed, transplant them outdoors in a spot that gets ample sunlight. These plants love rich, well-draining soil and benefit from consistent moisture. Given their resistance to alternaria stem canker, they showcase resilience against certain diseases. Regular pruning and staking will help in managing their growth and ensuring a bountiful harvest. By the end of the season, a gardener can expect up to nine pounds of radiant, golden-orange tomatoes from this illustrious variety.