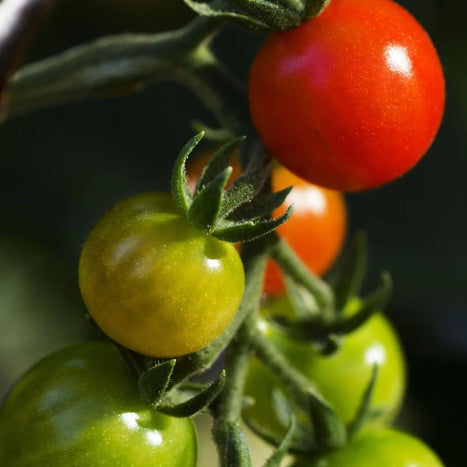 Tomato Seeds - Mexico Midget
Original price
$2.00
-
Original price
$2.00
Seed Count: 25 Seeds
Maturity: 60-70 Days from Transplant
Fruit Size: Tiny, ½-¾ inch
Flavor: Powerful Tomato Taste
Yield: Highly Productive
Growth Type: Indeterminate - Continual fruiting throughout the season
Ideal for Small Spaces: Perfect for pots and small garden beds
Plant Characteristics: Hardy with good drought tolerance
History: The Mexico Midget Tomato, known for its diminutive size yet intense flavor, has become a favorite among gardeners who appreciate its robust taste and compact growth habit. This variety stands out for its ability to produce an abundant yield of dark red cherry tomatoes, despite its small stature. Its origins and development have made it a popular choice for those seeking to maximize flavor in a minimal space.
Uses: Mexico Midget Tomatoes are renowned for their powerful tomato flavor, which makes them an excellent choice for a variety of culinary uses. These tiny tomatoes are perfect for fresh eating, salads, or as a flavorful addition to cooked dishes. Their size and taste make them an attractive and delicious option for snacking and garnishing.
Growing Habits & Planting Instructions: This indeterminate tomato variety thrives in both small garden spaces and containers, making it an ideal choice for gardeners with limited space. Plant seeds in well-draining soil, in a location that receives full sun. Although Mexico Midget Tomatoes are hardy and have good drought tolerance, regular watering will promote a healthier, more productive plant. Due to the indeterminate growth habit, these plants will continue to produce fruit throughout the growing season. Support through staking or trellising can be beneficial, especially as the plants become laden with fruit. With proper care, gardeners can expect a bountiful harvest of these tiny yet flavorful tomatoes from the Mexico Midget plant.