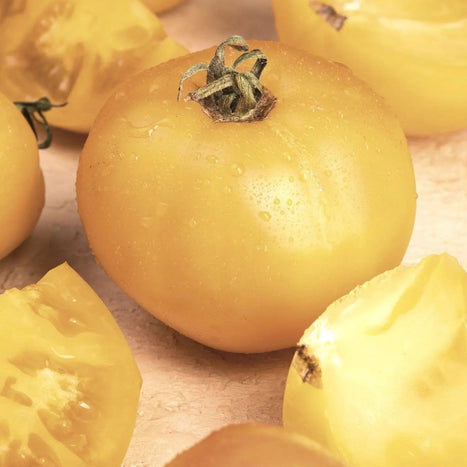 Tomato, Wapsipinicon Peach
Sold out
Original price
$2.00
-
Original price
$2.00
Wapsipinicon Peach tomato seeds are a variety of tomato that is known for its unique, peachy color and sweet flavor. The tomatoes typically grow to be about 2-3 inches in diameter and have a slightly flattened shape. They are a determinate variety, which means that they will produce a set amount of fruit all at once, making them well suited for canning or making tomato sauce.

These seeds are easy to grow in a home garden, and are well-suited for both indoor and outdoor cultivation. They should be planted in a sunny spot with well-draining soil and regular watering. As the plants grow, they may need to be staked or caged to support the weight of the fruit.

These tomatoes are ready to harvest when they are fully ripe, and can be picked directly from the vine. They will have a slightly soft texture, but will still hold their shape when sliced. These tomatoes are great for fresh eating and for use in salads and sandwiches. They are also great for preserving by canning, freezing, or drying.

This tomato is considered as an heirloom variety, meaning it's a variety that has been passed down through generations and often have unique or superior characteristics to commercial varieties, they also may be open pollinated (non-hybrid) which makes it possible to save the seed to grow again next year.

Overall, Wapsipinicon Peach tomato seeds are a unique and delicious variety that are well-suited for both the home gardener and the serious tomato enthusiast.