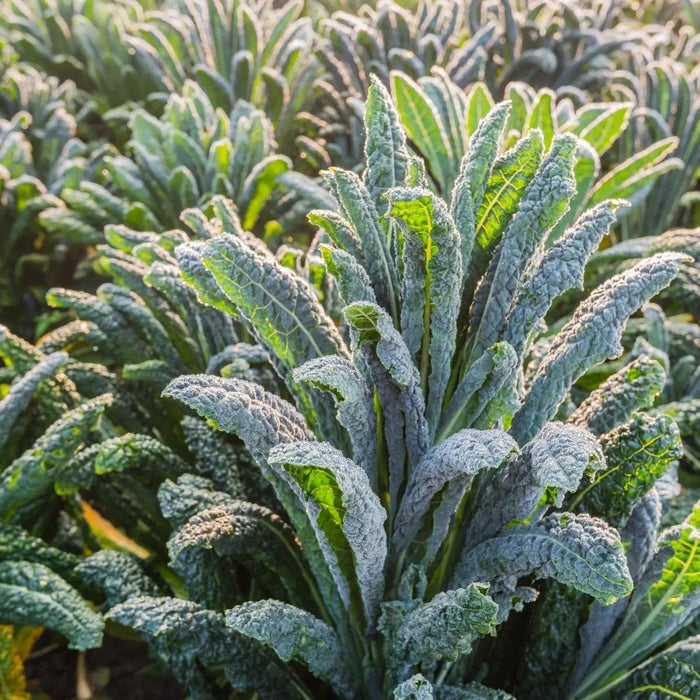 Kale Seeds - Tuscan Lacinato (Dinosaur)
Original price
$2.00
-
Original price
$2.00
300 Seeds
60 Days to Maturity
Leaves Reach Lengths of Up To 24 Inches
Easy to Grow Variety
Rich in Nutrients and Flavor
Deep Green, Textured Leaves
A Striking Addition to Any Garden
History: Originating in Italy, Tuscan Lacinato Kale, also known as 'Dinosaur Kale' or 'Black Kale', boasts a rich lineage in the Mediterranean region. This heirloom variety, with its deep history, has been a staple in traditional Tuscan dishes for centuries. Over time, its unique texture and unparalleled flavor have made it a favorite among gardeners and chefs worldwide.
Uses: The beauty of the Tuscan Lacinato Kale lies not just in its appearance but also in its versatility in the kitchen. Its dark, textured leaves are rich in nutrients and bring a deep, slightly sweet flavor to dishes. Perfect for sautées, salads, or even chips, its presence enhances the nutritional value and taste profile of meals. When cooked, it retains its vibrant color and offers a delightful chewy texture, making it a standout in a variety of dishes.
Growing Habits & Planting Instructions: Tuscan Lacinato Kale is uncomplicated to cultivate. Choose a spot with full sun to partial shade and ensure the soil is well-draining. Plant seeds about 1/4 inch deep, spacing them about 12-15 inches apart, with rows set 18-24 inches apart. Regular watering will ensure healthy growth but be cautious of overwatering. Given its relatively quick maturity, you'll be able to enjoy its delightful leaves in just two months, making it a rewarding addition to any garden.