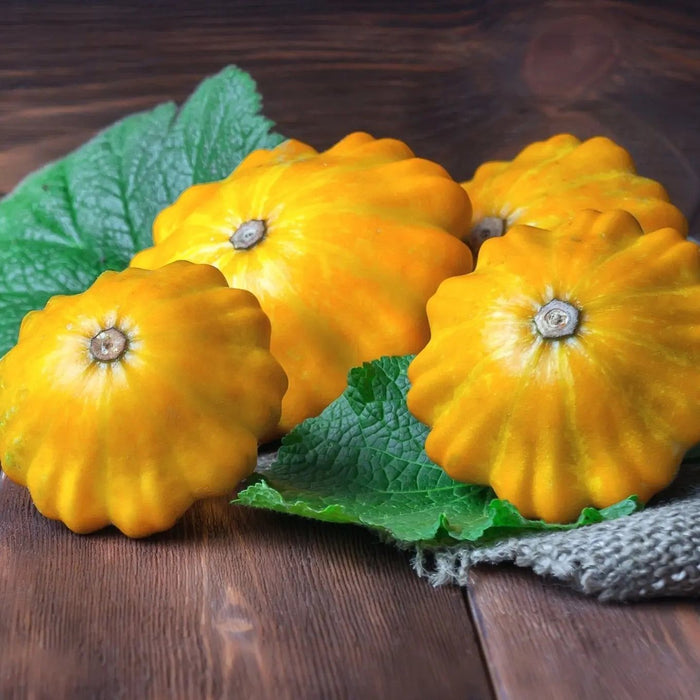 Squash Seeds - Yellow Scallop
Original price
$2.00
-
Original price
$2.00
20 Seeds
Maturity: 50 Days from Planting/Transplanting
Scientific Name: Cucurbita pepo
Vibrant Yellow Color
Mellow and Balanced Flavor Profile
Ideal for Stuffing
A Member of the Summer Squash Family
A Culinary Delight with Historical Significance
History:
Yellow Scallop squash, or 'Pattypan squash', as it is sometimes known, has deep historical roots. This squash has been cultivated for centuries, appreciated for its unique scalloped shape and bright yellow hue. Traces of its use go back to ancient indigenous cultures in the Americas, and it has since become a beloved variety in gardens and kitchens across continents.
Uses:
The Yellow Scallop squash is celebrated for its versatility in culinary applications. Its mild, yet rich flavor profile makes it perfect for an array of dishes. One of the most popular ways to savor this squash is by stuffing it. Given its shape, it acts as a natural bowl, making it perfect for fillings ranging from savory meat mixtures to vegetarian delights. Additionally, its tender flesh can be grilled, roasted, or sautéed, allowing chefs and home cooks alike to experiment with its potential.
Growing Habits & Planting Instructions:
To achieve a flourishing crop of Yellow Scallop squash, start by selecting a location with ample sunlight and fertile, well-draining soil. Plant the seeds about an inch deep, providing enough space between each seed to allow for growth. Regular watering and occasional feeding will ensure healthy, vibrant fruits. After roughly 50 days post planting, the squash should reach maturity, showcasing their signature bright yellow color and scalloped edges. Harvest when young and tender for the best flavor and texture.