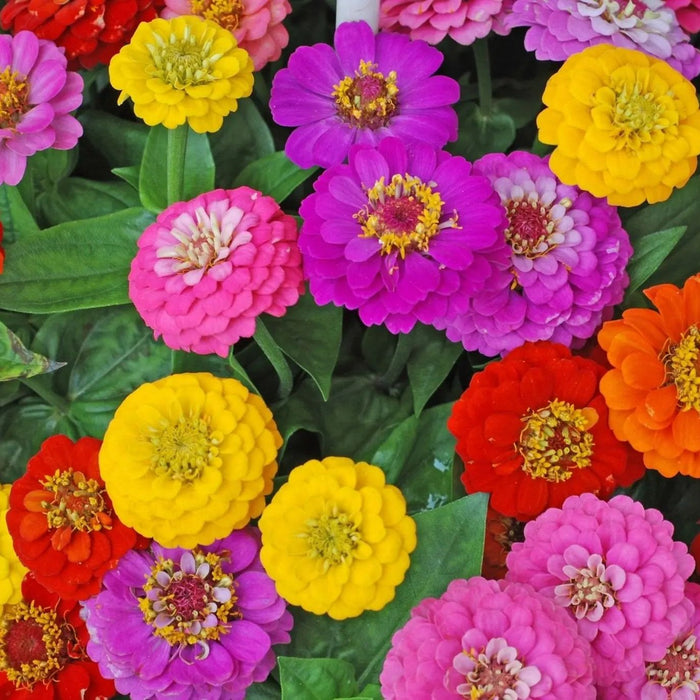 Zinnia Seeds - California Giant Mixed
Original price
$2.50
-
Original price
$2.50
Seed Count: 80 Seeds
Maturity Date: 75-90 Days
Plant Type: Annual
Height: Varies, up to 3-4 feet
Flower Colors: Multiple colors, including red, pink, yellow, orange, and purple
Flower Size: 4-5 inches in diameter
Growing Conditions: Full Sun, adaptable to various soil types
Special Features: Excellent for cut flower arrangements, attracts pollinators
History: The California Giant Zinnia, as the name suggests, originated in California and has become one of the most popular zinnia varieties globally. It has been specially bred to produce large, show-stopping blooms that come in a vibrant array of colors. Originally native to Mexico, zinnias have a long history of captivating gardeners and florists alike. The California Giant, in particular, has been a staple in gardens for its adaptability and impressive size, often reaching up to 4-5 inches in diameter.
Uses: The California Giant Zinnia is a favorite among gardeners and florists for its versatility and vivid colors. The large blooms make excellent cut flowers, retaining their color and form for a prolonged period when placed in water. This variety's rich colors make it an ideal choice for bouquets, centerpieces, and other floral arrangements. In the garden, they create a dazzling display of colors, from reds and pinks to yellows and oranges. The California Giant is also a pollinator-friendly plant, attracting bees, butterflies, and hummingbirds, adding another layer of life and vibrancy to your garden.
Growth Habit and Planting Instructions: California Giants are annual plants that can grow up to 3-4 feet tall, depending on the growing conditions. For best results, plant them in an area with full sun and well-drained soil. While they are tolerant of various soil types, they do prefer soil rich in organic matter. Sow the seeds directly into the ground after the last frost has passed, or start them indoors 4-6 weeks before the last frost for an earlier bloom. Plant the seeds a quarter-inch deep and space them about 12 inches apart to allow ample room for growth. Water regularly, but avoid waterlogged conditions as this can lead to root rot. Expect to see your first blooms in about 75-90 days from planting. Make sure to remove spent blooms to encourage new flower growth and extend the blooming period.