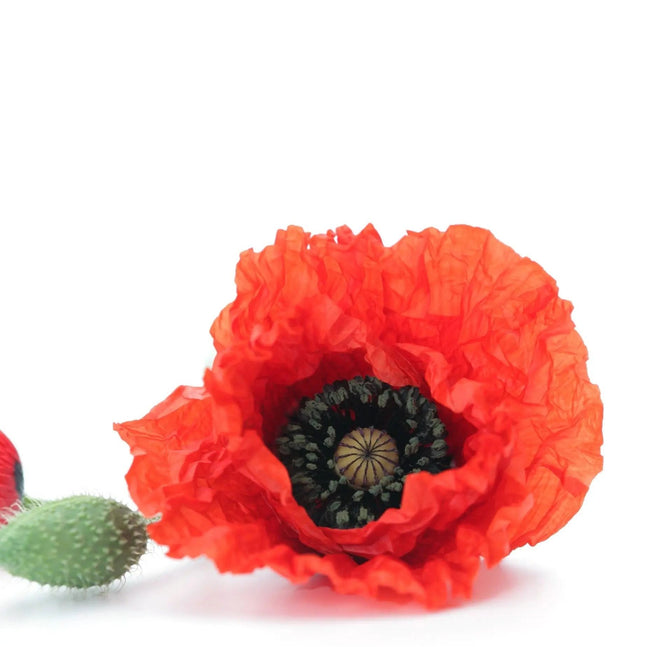 Poppy Seeds - American Legion
Sold out
Original price
$2.50
-
Original price
$2.50
Seed Count: 600 seeds
Maturity Date: 60-90 days after sprouting
Also Known As: Flanders Poppy
Color: Bright red
Sprouting Time: 14-21 days
Blooming Season: Spring to summer
Attracts: Bees, butterflies, and other pollinators
Additional Uses: Cut flowers, dried arrangements
History: The American Legion Corn Poppy, also known as the Flanders Poppy, holds a place of great significance in history and memory. Originally native to Europe, these bright red poppies were immortalized in the poignant World War I poem "In Flanders Fields" by Canadian physician John McCrae. Following the war, the American Legion adopted the Flanders Poppy as a symbol of remembrance for those who died in combat. It's a living tribute that has crossed continents and generations, remaining a globally recognized icon to honor the fallen.
Uses: The primary use of the American Legion Corn Poppy is symbolic, serving as a vibrant reminder of those who have given their lives in combat. Beyond its memorial significance, the poppy is also a boon for pollinators, attracting bees, butterflies, and other beneficial insects to your garden. Its bright red flowers can be used in both fresh cut floral arrangements and dried for long-term decorative purposes. Additionally, the plant's ability to self-seed makes it a low-maintenance addition to your garden, offering beauty and meaning with little effort.
Growth Habit and Planting Instructions: This poppy variety is relatively easy to grow and maintain. Seeds typically sprout within 14-21 days and the plants reach maturity within 60-90 days. Ideal for direct sowing into the garden soil, they should be scattered lightly on the surface, as they also need light to germinate. No need to cover them; just press them gently into the soil for good seed-to-soil contact. These poppies prefer well-drained soil and a sunny location. Once established, they are quite drought-tolerant. One of the highlights of this variety is its ability to self-seed, which means you can expect a recurring display of poignant red blooms year after year, continuously paying homage to the fallen while enriching your garden's ecology.