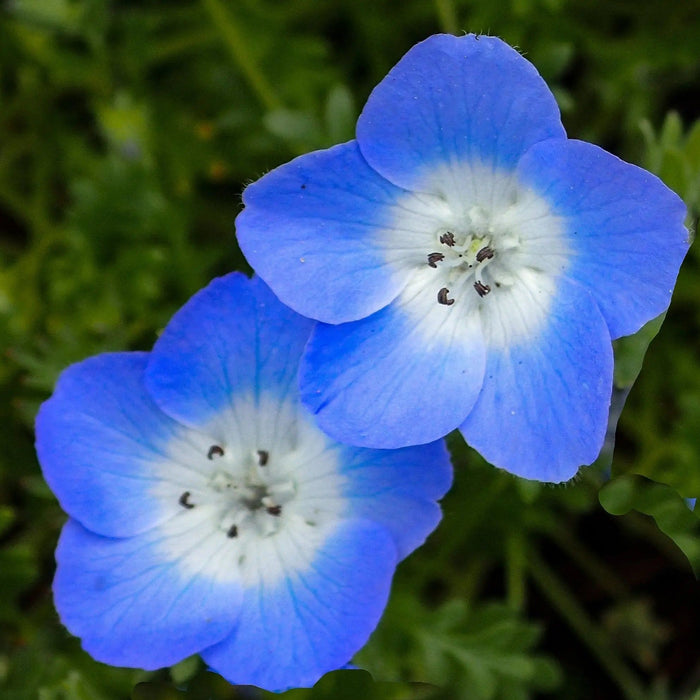 Nemophila Seeds - Baby Blue Eyes
Original price
$2.00
-
Original price
$2.00
Seed Count: 700 Seeds
Plant Height: 4-8 inches tall
Flower Color: Blue and white blooms
Attraction: Butterflies and beneficial insects
Type: Heirloom, open-pollinated, non-GMO
Drought Tolerance: High; also heat-resistant
Growth Spread: Up to 12 inches wide
Light Preference: Full sun to partial shade
Soil Type: Well-drained
Uses: Ideal for rock gardens, containers, borders, meadows, and cottage gardens
History Baby Blue Eyes, a wildflower native to California, Oregon, and Baja California, has charmed gardeners for generations with its delicate blue and white blossoms. This annual flower, botanically known as Nemophila menziesii, has adapted over time to various regions of the United States, reflecting its versatility and resilience. Originally thriving in the wild, its enchanting beauty has led to its cultivation in gardens, where it brings a touch of wildness and whimsy.
Uses Baby Blue Eyes are beloved for their captivating aesthetic and ecological benefits. These flowers, with their vibrant blue and white petals, are not just visually appealing but also a haven for butterflies, bees, and other beneficial insects, enhancing the biodiversity of gardens. They are perfect for creating a lively and dynamic environment in rock gardens, containers, borders, and meadows. Additionally, their long vase life makes them excellent choices for cut flower arrangements, adding a dash of natural beauty indoors.
Growth Habit and Planting Instructions To successfully grow Baby Blue Eyes, sow the seeds directly in the garden post the last frost. Lightly scatter the seeds over prepared soil and cover them slightly with soil or compost. Regular watering is key to maintaining moist soil until germination, typically around 7-10 days. Once the seedlings develop two sets of true leaves, thin them to 6-8 inches apart to allow for ample growth. For lush, branching blooms, pinch back the tips and deadhead spent blooms. Fertilize every 4 weeks with a balanced organic mix to nourish the plants throughout their flowering season, which lasts from late winter to early summer.