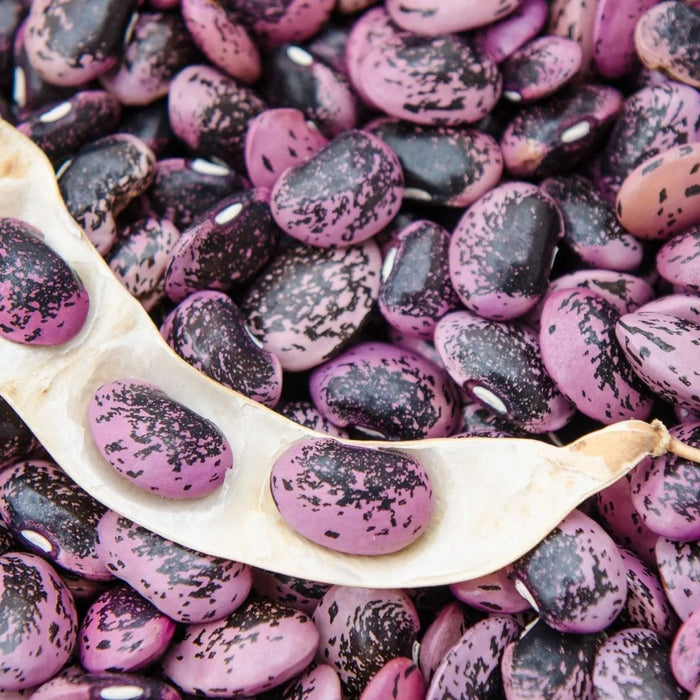 Bean Seeds - Runner - Bear Paw
Original price
$2.00
-
Original price
$2.00
10 Seeds

65 Days from Planting/Transplanting

Pole Bean Growth Habit

Deep-Purple-Black Thin-Skinned Pods

Attracts Hummingbirds

Heirloom, Open-Pollinated, Non-GMO

Ideal for Pots, Containers, Garden Beds

High-Yielding, Abundant Pods



History & Origin:
The Seneca Bear Paw Bean, a treasured heirloom variety, traces its origins to Central America. It was later adopted and cherished by the Haudenosaunee people, weaving its way into their agricultural and culinary traditions. The Alliance of Native Seedkeepers is proud to offer this historically rich variety, ensuring that both its legacy and delightful attributes are enjoyed by future generations.

Uses & Culinary Appeal:
Beyond its historical significance, the Seneca Bear Paw stands out in the culinary realm. With deep-purple-black thin-skinned pods, this bean boasts a rich and nutty flavor. It becomes the star ingredient in a variety of dishes – from hearty soups and traditional breads to fresh salads. But its appeal isn't solely culinary; it's a visual treat too. The vibrant purple flowers and stems make it a beautiful ornamental addition to gardens, attracting hummingbirds and butterflies.

Growing Habits & Planting Instructions:
Being a pole bean variety, Seneca Bear Paw requires a support structure like trellises for optimal growth. Plant seeds about 1 inch deep in soil, and whether you're using pots, containers, or garden beds, this bean will thrive. It's forgiving and adaptable, resisting various conditions and potential diseases. Moreover, its high-yield nature ensures abundant pods ready for multiple harvests throughout the season.

If beauty, flavor, and historical significance are what you seek in a bean, the Seneca Bear Paw is the ideal choice. Elevate your garden and your culinary experiences by sowing these remarkable seeds available exclusively at the Alliance of Native Seedkeepers.