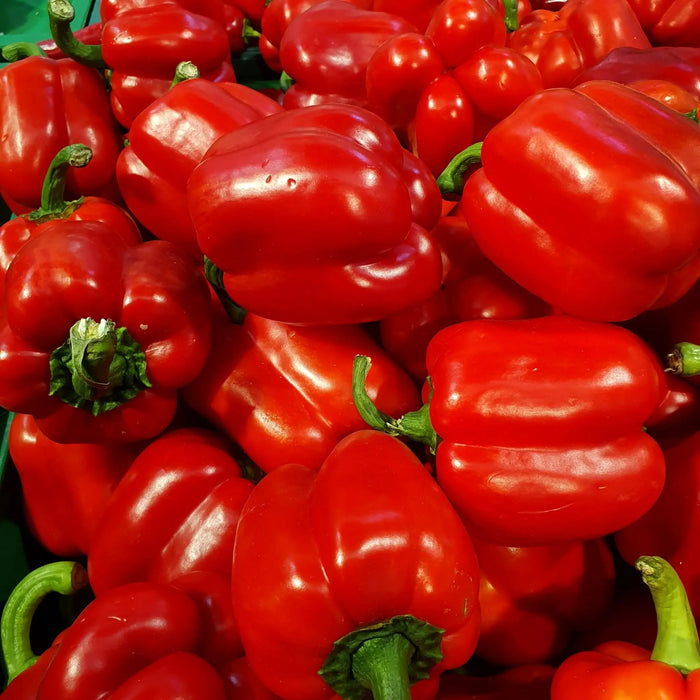 Pepper Seeds - Big Red Sweet
Original price
$0.00
-
Original price
$0.00
50 Seeds per Packet
75 Days to Maturity
Large, Sweet Red Peppers with 3-4 Lobes
Each Pepper Measures 5-6 Inches in Length and 5 Inches in Width
Perfect for a Multitude of Culinary Applications
Open-Pollinated, Non-GMO, and Heirloom
Adaptable to Various Climates and Soil Types
Generations-old Legacy Ensuring Quality and Authenticity
History: Originating from ancestral gardens, Big Red Sweet Peppers carry a legacy of taste and tradition. Being an heirloom variety means that these seeds have been treasured and passed down through several generations, preserving their unique characteristics. Revered for their size, sweetness, and adaptability, these peppers have graced many gardens and tables over the years, solidifying their place in horticultural and culinary history.
Uses: The versatility of the Big Red Sweet Pepper is boundless. Its sweet and juicy flesh is perfect for a variety of culinary delights, from fresh salads and salsas to stuffed dishes and roasted delicacies. Their generous size makes them a favorite for stuffing, and their rich, sweet taste enhances grilling and roasting recipes. Whether eaten fresh, roasted, grilled, or even preserved, their presence elevates any dish.
Growing Habits & Planting Instructions: To cultivate Big Red Sweet Peppers, start by planting the seeds indoors, a few weeks before the last expected frost. Once seedlings have grown strong and the threat of frost has passed, transplant them outdoors in a sunny location. These peppers thrive in well-drained soil and benefit from regular watering, especially during dry spells. As the plants mature over the 75-day period, they will produce the signature large, red, lobe-rich peppers. Regularly inspect the plants for any signs of pests and harvest the peppers once they attain their bright red hue and desired size. Given that these are open-pollinated, seeds from mature peppers can be saved and planted for the next season, continuing the legacy of the Big Red Sweet Pepper.