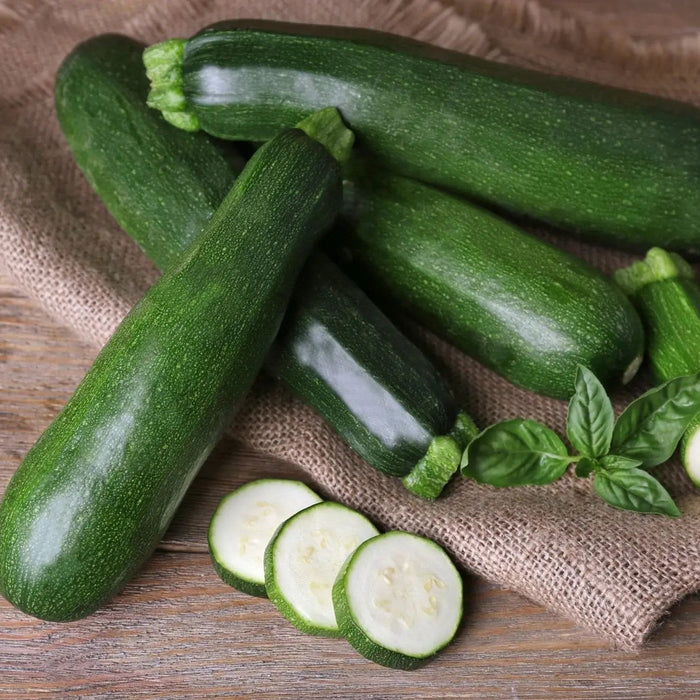 Squash Seeds - Black Beauty Zucchini
Original price
$2.00
-
Original price
$2.00
30 Seeds
50-60 Days from Planting/Transplanting
Plant Height: 18-24 inches
Bush Habit Dark green, almost black skin
Tender and flavorful flesh
Versatile culinary uses
Suitable for smaller gardens and container growing
History: Originating as a classic, the Black Beauty Zucchini stands as an heirloom variety that has woven its way into the tapestry of gardening traditions over the decades. Noted for its distinctive dark green skin that borders on black, this summer squash is not just about looks. Beyond its visual appeal, the Black Beauty Zucchini has garnered appreciation for the tenderness and flavor of its flesh, attributes that have solidified its place in gardens and kitchens alike.
Uses: A kitchen staple, the versatility of the Black Beauty Zucchini shines through in a multitude of culinary endeavors. From the grill to the frying pan, its tender insides cook beautifully, making it a top choice for various recipes. It's not just limited to savory dishes. Many have taken to integrating this zucchini into baked goods, like bread and muffins, where its mild flavor adds a hint of richness.
Growing Habits & Planting Instructions: Black Beauty Zucchini, with its bush growth habit, is a boon for those who are space-constrained, as it lends itself well to both smaller gardens and container growth. When planting, look for well-drained soil that maintains a pH level ranging between 6.0 to 7.0, and ensure the plant is exposed to ample sunlight. Sow the seeds about an inch deep, maintaining a distance of 2-3 feet between each seed, and arrange them in rows that are spaced 3-4 feet apart. For an abundant harvest, it's essential to water the plants consistently and ensure the soil remains fertile.