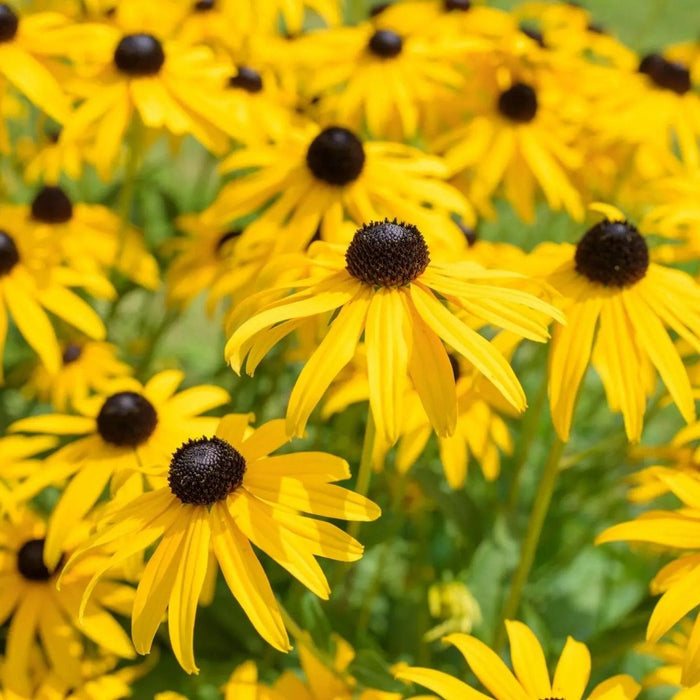 Rudbeckia Seeds - Black Eyed Susan
Original price
$2.00
-
Original price
$2.00
Seed Count: 40 seeds
Maturity Date: 60-70 days from planting/transplanting
Plant Height: 24-36 inches
Flower Color: Yellow petals with dark black centers
Light Requirements: Full sun to partial shade
Soil Requirements: Well-drained soil with a pH between 6.0-7.0
Cold Hardiness: Zones 3-9
Special Feature: Drought-resistant once established
History: The Black Eyed Susan, a native North American wildflower, has been a staple in gardens for many generations. It is known for its striking yellow petals and contrasting dark black centers. The flower has more than just aesthetic appeal; it also holds a place in herbal medicine history. Native Americans and early settlers have used different parts of the plant, primarily the roots, for medicinal purposes, adding an extra layer of significance to this popular perennial.
Uses: While the Black Eyed Susan is primarily grown today for its ornamental beauty, it also has historical applications in herbal medicine. The roots have been used to treat various ailments, though modern usage is mostly confined to its aesthetic appeal. Its bright, sunny colors make it an excellent choice for garden beds, borders, and even as cut flowers for indoor arrangements. The flower is not just beautiful but also functional, as it attracts pollinators like butterflies and bees to your garden.
Growth Habit and Planting Instructions: The Black Eyed Susan is a hardy and easy-to-grow perennial that adapts well to a variety of soil conditions. It prefers well-drained soil with a pH level between 6.0 and 7.0. To plant, sow the seeds about 1/4 inch deep in the soil, spacing them 12-18 inches apart. Choose a location with full sun to partial shade for optimal growth. Water the seeds consistently until they germinate, which usually takes 1-2 weeks. Once the plants are established, they become relatively drought-resistant, making them a low-maintenance addition to your garden.