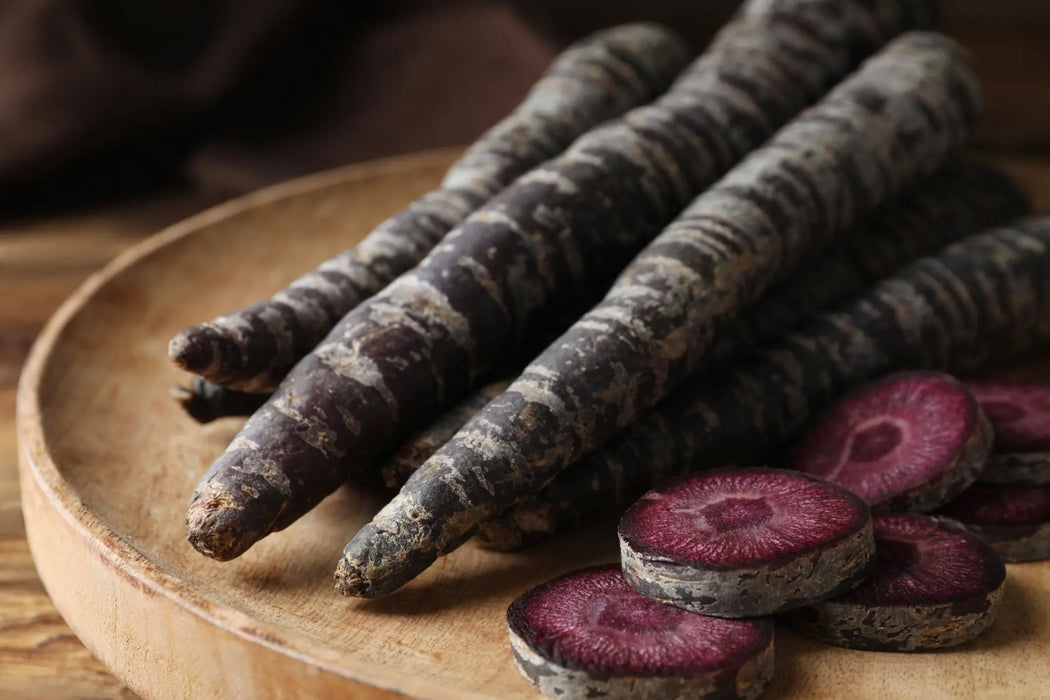 Carrot Seeds - Black Nebula
Original price
$2.00
-
Original price
$2.00
300 Seeds
65-70 Days from Planting/Transplanting
Type: Short to Medium Carrot
Plant Height: 12-16 inches
History: The Black Nebula Carrot has quickly made its mark as a novel entrant in the world of root vegetables. With a deep, enchanting purple-black hue, thanks to its rich anthocyanin content, this relatively recent variety has gained immense popularity among both garden enthusiasts and health-conscious individuals, owing to its potential health benefits from the antioxidants.
Uses: A true spectacle on the plate, the Black Nebula Carrot retains its captivating color even after being cooked, ensuring it always stands out in any dish. More than its appearance, it brings an intense, earthy sweetness to the table. Whether incorporated into savory dishes, such as roasted vegetables, or desserts like a spiced carrot cake, it promises a taste that resonates.
Growing Habits & Planting Instructions: The Black Nebula Carrot, being a short to medium variety, requires similar care to other carrots. They flourish in sunlit areas but can also grow in partial shade. For optimal growth, they prefer sandy, well-draining soil with a pH level ranging from 6.0 to 6.8. To plant, it's best to sow the seeds directly into the ground, burying them around 1/4 inch deep. They should be spaced 2-3 inches apart within rows, with each row being at least 12 inches apart from the next. As they germinate and grow, it's crucial to thin them out to ensure they have ample space to develop. Regular watering and maintaining soil fertility will promote healthier, more flavorful roots.