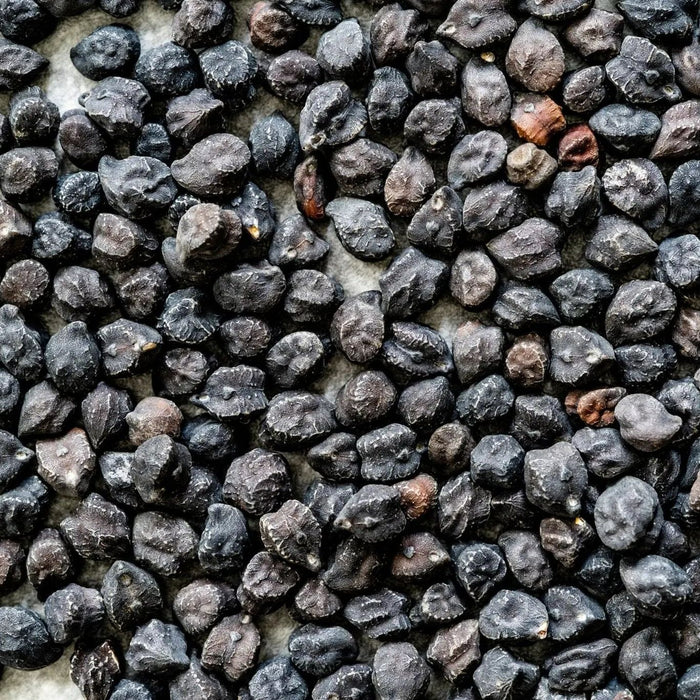 Grabanzo Seeds - Black Sicilian
Original price
$2.00
-
Original price
$2.00
Seed Count: 25 Seeds
Maturity Date: 90-100 Days from Planting/Transplanting
Plant Height: 18-24 inches
Growth Habit: Bush Habit
Origin: Sicilian Heirloom
Flavor Profile: Rich, Nutty Flavor
Soil pH Preference: 6.0-7.0
Sunlight Requirements: Full Sun
History: The Black Sicilian Garbanzo bean is a testament to the rich agricultural heritage of Sicily. As an heirloom variety, it has been passed down through generations of Sicilian farmers, valued for its nutritional benefits and adaptability to the Mediterranean climate. This unique legume variety is a part of Sicily's culinary tradition, where it has been used in a variety of traditional dishes, celebrated for its distinctive flavor and healthful properties.
Uses: In the kitchen, the Black Sicilian Garbanzo shines for its versatility and rich flavor. These beans can be used in numerous culinary preparations, from salads and stews to being the star ingredient in a creamy hummus. The dark, almost black hue of these garbanzos makes them not only a flavorful choice but also an attractive one, adding visual interest to any dish they are a part of. Nutritionally, they are a powerhouse, packed with protein, fiber, and essential nutrients.
Growing Habits & Planting Instructions: The Black Sicilian Garbanzo is a bush-type plant, which makes it more manageable and suitable for a variety of garden sizes. To cultivate, select a site with full sun exposure and well-drained soil. These plants do best in soil with a pH between 6.0 and 7.0. Sow the seeds about 1 inch deep, spacing them 3-4 inches apart, in rows that are at least 24 inches apart. Regular watering is important, especially in dry conditions, but be careful not to overwater. With a growing period of about 90-100 days, these plants will produce beans that are ready for harvest and can then be enjoyed in a multitude of culinary applications.