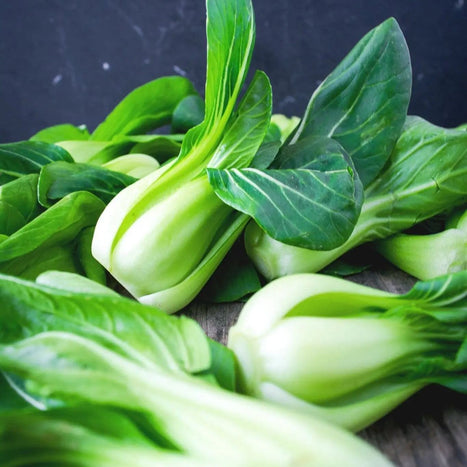 Cabbage Seeds - Bok Choy White Stemmed
Original price
$2.00
-
Original price
$2.00
Seed Count: 300 Seeds
Maturity: 45-50 Days from Planting/Transplanting
Type: Asian Cabbage
Plant Height: 12-18 inches
Texture: Succulent White Stems with Tender Green Leaves
Flavor Profile: Crisp with a Mild Flavor
History:
Bok Choy, also known as Pak Choi or Chinese Cabbage, has been cultivated for centuries and is a fundamental ingredient in Asian cuisine. The White Stemmed variety is notably esteemed for its juicy stems and tender leaves. Its history is rooted deeply in traditional Chinese farming and has been a nutritious staple for countless generations.
Uses:
This versatile vegetable serves a dual purpose: the juicy white stems add crunch to dishes, while the leafy greens provide a fresh, mild flavor. It's commonly found in stir-fries, soups, and salads. The stems and leaves can be cooked together or separately, depending on the dish, giving chefs flexibility in their culinary creations.
Growing Habits & Planting Instructions:
Bok Choy thrives in cooler weather conditions, preferring temperatures that aren't too hot. For optimal growth, plant seeds in well-drained soil with a pH level ranging between 6.0 and 7.5. Seeds should be sown about 1/4 inch deep, with 18-24 inches of space between each plant to allow ample growth. Rows should be spaced about 30 inches apart. This vegetable loves full sun but can also grow in partial shade. It's important to keep the soil consistently moist, but not waterlogged. Harvest when stems are thick and leaves are bright green for the best flavor.