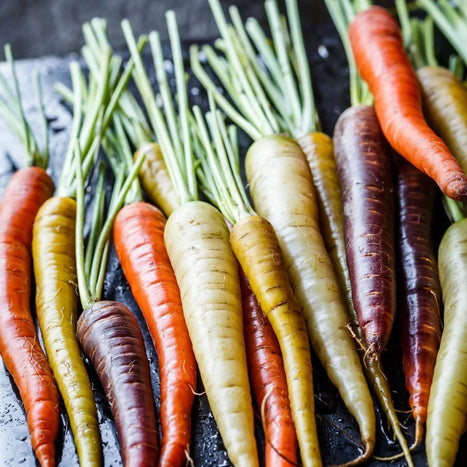 Carrot Seeds - Rainbow Mix
Original price
$2.00
-
Original price
$2.00
300 Seeds
65-75 Days from Planting/Transplanting
Type: Mixed Carrot Varieties
Plant Height: 12-24 inches depending on the variety
History: The Rainbow Carrot Blend brings together heritage and modern varieties from various corners of the world. Each variety in this blend has its unique history and place of origin, combining to provide a stunning array of colors and flavors.
Description: This vibrant blend of carrots is sure to bring excitement to your garden and table. The rustic charm of yellow Solar Carrots, the unique frills of the Cosmic Purple carrots, the fiery hue of the Atomic Red Carrots, and the mesmerizing depth of the Lunar White Carrots form a collection that's both visually striking and packed with diverse flavors.
Uses: Beyond their aesthetic appeal, each carrot variety in this blend offers a unique flavor profile, ranging from sweet to mildly spicy. They're perfect for fresh salads, roasting, juicing, or simply enjoying raw. When arranged together, they create a delightful and colorful dish presentation.
Growing Habits & Planting Instructions: To grow this blend, sow the seeds about 1/4 inch deep in soil free of stones and significant clumps, ensuring that the roots can develop uniformly. Space the seeds 2-3 inches apart in rows set about 12 inches apart. While they flourish best in full sun, they can also thrive in partial shade. Regular and consistent watering is essential for optimal root development and flavor. Each variety might have slightly different growth patterns, so be sure to monitor and adjust care as needed.