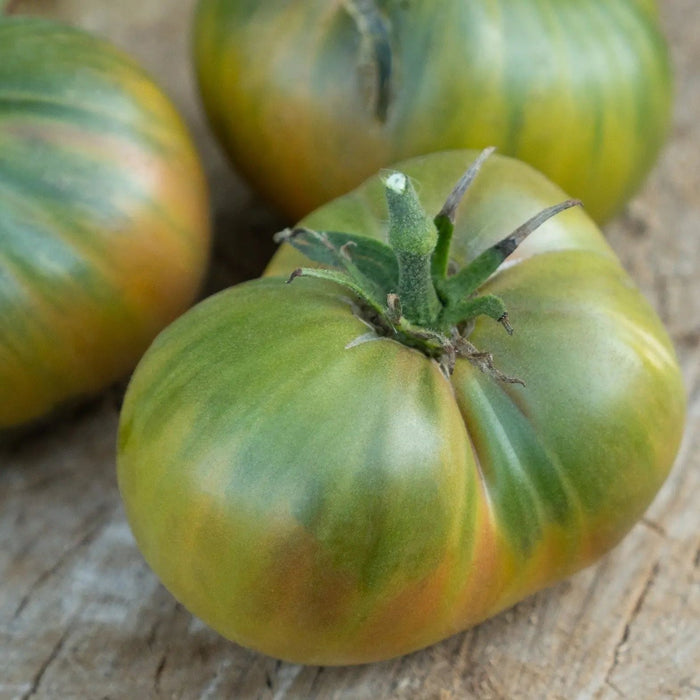 Tomato Seeds - Cherokee Green
Sold out
Original price
$2.00
-
Original price
$2.00
30 Seeds
Maturity in 75-85 Days from Planting/Transplanting
Indeterminate Growth Habit
Originates from Cherokee Native American Tribes
Organic and Sustainable Cultivation
Ripens to an Amber-Green Color
Tangy Yet Sweet Flavor Profile
Requires Staking or Caging for Support
History:
Diving into the roots of the Cherokee Green Tomato takes us on a journey back to the Cherokee Native American tribes. As an heirloom variety, its cultivation is a testament to the organic and sustainable farming practices the Cherokee tribes championed. This tomato not only carries a rich flavor but also the heritage of centuries-old agricultural traditions.
Uses:
Don't be fooled by its green hue! The Cherokee Green Tomato, when ripe, transforms into a stunning amber-green shade. Its flavor profile is a harmonious blend of tangy and sweet notes. This makes it a versatile choice for an array of culinary applications. Whether you're crafting a refreshing salad, layering a sandwich, or delving into the southern classic of fried green tomatoes, the Cherokee Green won't disappoint.
Growing Habits & Planting Instructions:
To begin your Cherokee Green Tomato journey, sow the seeds a quarter-inch deep. If you're starting indoors, aim for 6-8 weeks ahead of the last anticipated frost. Alternatively, direct planting in the garden requires a sufficiently warm soil. When it comes to spacing, aim for 24-36 inches between plants and maintain rows 36-48 inches apart. Owing to its indeterminate growth nature, the Cherokee Green Tomato thrives with support. Hence, staking or caging is not just recommended, but essential. This will not only support the plant but also maximize its fruit production throughout the season.