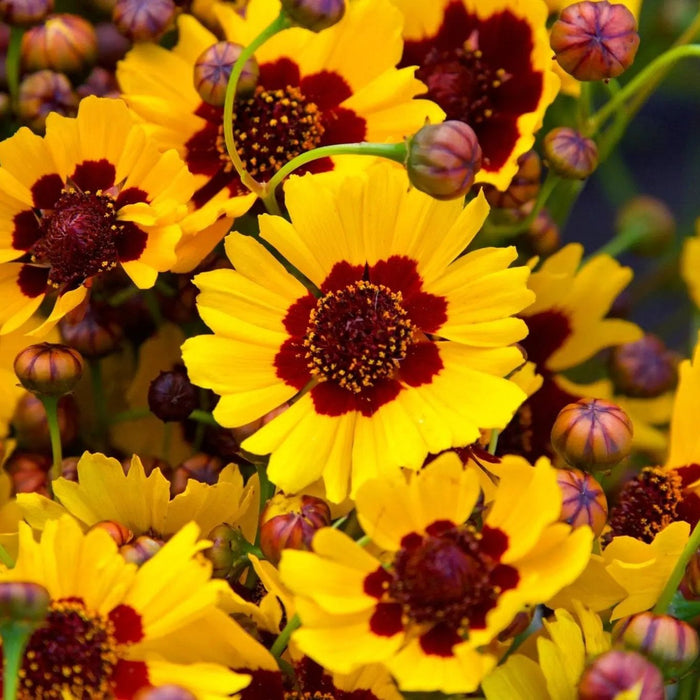 Coreopsis Seeds - Dwarf Plains
Sold out
Original price
$2.50
-
Original price
$2.50
Seed Count: 150 seeds.
Maturity Date: 60-70 days from planting/transplanting.
Plant Type: Annual Flower.
Origin: Plains of North America.
Color: Bright yellow and red blooms.
Soil Preference: Well-drained.
Light Requirement: Full sun.
Watering: Drought-tolerant, occasional watering needed.
History: Dwarf Plains Coreopsis Tinctoria is a treasured wildflower with its roots in the vast plains of North America. This naturally occurring beauty, with its captivating yellow and red flowers, paints a vivid image of the unspoiled wilderness of the continent. The sight of its blooms gently swaying in the breeze brings to mind the simpler times when nature and humans coexisted harmoniously. Historically, this wildflower has been cherished not just for its radiant appearance but also as an emblem of joy and the effortless elegance of nature.
Uses: The luminous yellow and red petals of the Dwarf Plains Coreopsis Tinctoria serve as more than just a visual treat. Their presence in gardens and meadows can significantly elevate the environment's visual appeal. But beyond aesthetics, they have a functional role too. Their vibrant colors act like magnets for pollinators such as bees and butterflies, ensuring a healthy and thriving ecosystem. Gardeners and landscapers often incorporate them into meadow plantings, making them stand out. Moreover, their cheerful demeanor makes them a preferred choice for garden borders and flower beds, adding a dash of happiness wherever they grow.
Growing Habits & Planting Instructions: For those seeking a low-maintenance yet high-impact flower, Dwarf Plains Coreopsis Tinctoria is an excellent choice. Begin your journey with them by sowing the seeds directly into the ground after the danger of the last frost has passed. Ensure the seeds are just lightly covered with soil. One of their standout features is their drought-tolerance, making them a suitable choice for gardens that don't receive frequent watering. While they are adaptable and can grow in various soil types, they flourish best in well-drained soils. Additionally, for the best blooms and growth,