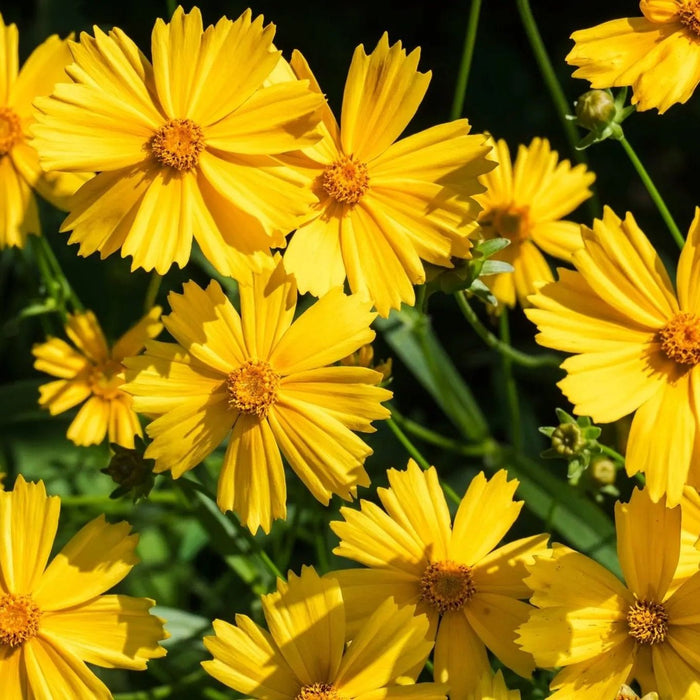 Coreopsis Seeds - Lance Leaf
Sold out
Original price
$2.50
-
Original price
$2.50
Seed Count: 100 seeds.
Maturity Date: 75-80 days from planting/transplanting.
Plant Type: Perennial Flower.
Origin: North America.
Color: Daisy-like golden blooms.
Soil Preference: Well-drained.
Light Requirement: Full sun.
Watering: Drought-resistant, occasional watering needed.
History: The Lance Leaf Coreopsis, with its roots deeply embedded in the rich soils of North America, has remained a favorite among garden enthusiasts. These perennial flowers, known for their daisy-like golden blooms, have a charm that never seems to fade. Over generations, they have been a consistent presence in gardens, drawing admirers with their simplicity and elegance. Their unchanging beauty and adaptability have ensured that the Lance Leaf Coreopsis continues to be a treasured gem in the vast world of horticulture.
Uses: Beyond the sheer beauty of the Lance Leaf Coreopsis, there lies a functional significance that adds to its value. These sun-worshipping flowers are not just a visual delight, but they also play a vital role in the garden's ecosystem. Their inviting golden petals act as a haven for pollinators, offering a rich nectar source that aids in maintaining biodiversity. Their versatility ensures that they can be incorporated into a variety of garden designs. Whether used in wildflower seed mixes to create a natural meadow look, as an edge to define garden borders, or as a stand-alone feature, they promise a burst of color and life.
Growing Habits & Planting Instructions: Lance Leaf Coreopsis is a dream for gardeners seeking low maintenance plants with high aesthetic value. Begin your journey with these flowers by scattering the seeds lightly on the surface of the soil, ensuring they aren't buried too deep. The ideal location for these plants is one that receives generous sunlight throughout the day. Their drought-resistant nature means they don't need frequent watering, making them perfect for regions with less predictable rainfall. However, they do have a preference for well-draining soil, which ensures they remain healthy and vibrant. Being perennials, once planted and established, they will grace gardens with their presence year after year, spreading happiness and color with each season.