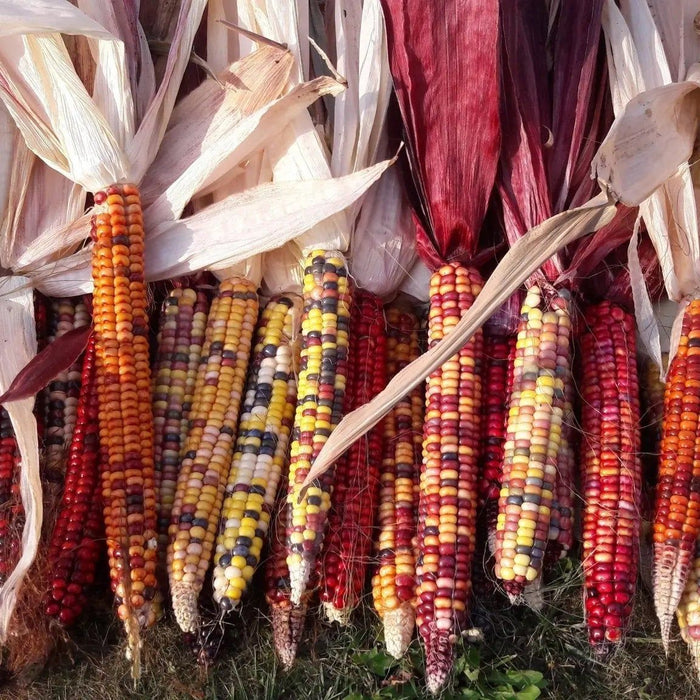 Corn Seeds - Painted Mountain Flour
Original price
$2.00
-
Original price
$2.00
Seed Count: 20 Seeds
Maturity: 85-95 Days from Planting/Transplanting
Plant Height: Medium Stalk
Kernel Colors: Multi-colored
Special Feature: Developed from 70 different varieties
History:
The story of Painted Mountain Flour Corn is as vibrant and rich as its colorful kernels. This exceptional corn variety draws inspiration from the multi-hued landscapes of nature. Crafted over several decades, it combines the genetic strengths of nearly 70 heirloom and indigenous Native American corn varieties. The outcome is a corn that not only stands out visually but also symbolizes the incredible genetic diversity and history of maize across various cultures and regions.
Uses:
Painted Mountain isn't just captivating to the eye; it's a versatile corn in culinary applications. Its kernels, brimming with flavor, can be roasted to perfection, milled into a unique multi-colored flour, or even popped for a delightful snack. Beyond its edible qualities, the vividly colored kernels of this corn are often dried and utilized as decorative items, gracing many a table during harvest festivities and adding a touch of nature's artistry to celebrations.
Growing Habits & Planting Instructions:
Cultivating Painted Mountain Flour Corn is a journey worth undertaking. Begin by sowing the seeds approximately 1 inch deep, ensuring they're spaced 8-12 inches apart, with rows separated by 24-36 inches. While this variety has the tenacity to endure various soil conditions, it flourishes best under the generous rays of the sun, coupled with nutrient-rich, well-draining soil. As the corn grows, a consistent watering schedule is paramount, particularly during the crucial developmental phases. This ensures the plant remains robust and yields a bountiful harvest.