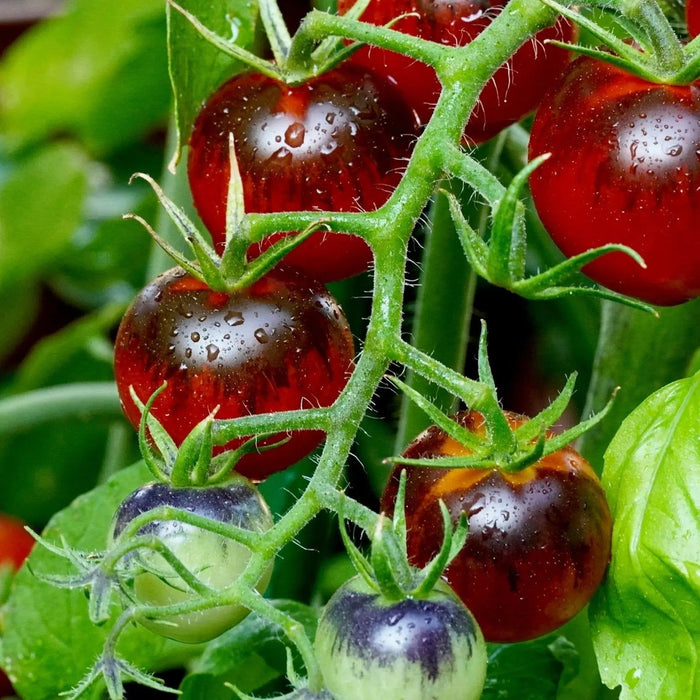 Tomato Seeds - Dancing With Smurfs
Original price
$2.00
-
Original price
$2.00
10 Seeds
Maturity: 75-85 Days from Planting/Transplanting
Indeterminate Growth Habit
Distinct Blue Hue
High in Antioxidants
Tangy Flavor Profile
Perfect for Fresh Eating
Requires Staking or Caging for Support
History:
"Dancing With Smurfs" tomato is not just a playful nod to the iconic blue characters but a reflection of this variety's magical appearance. Despite its recent introduction into the world of gardening, it has garnered significant attention, primarily due to its stunning blue hue. This color, rich in anthocyanin, is not only visually spectacular but boasts the same health benefits found in blueberries, making this tomato both a visual and nutritional treat.
Uses:
While its appearance is certainly the first thing that catches the eye, the taste of the "Dancing With Smurfs" tomato is equally impressive. Possessing a unique tangy flavor, it's perfect for adding a splash of color and zest to salads or just to be relished straight from the vine. And with its dazzling blue shade, it's bound to be the star of any dish or garden.
Growing Habits & Planting Instructions:
For those intrigued by this blue wonder, start your journey by sowing seeds indoors, preferably 6-8 weeks before the expected last frost. When it's time to move them to their final outdoor location, make sure they're spaced around 24-36 inches apart in a sunny spot. Being an indeterminate variety, the "Dancing With Smurfs" tomato promises a continual yield, ensuring a steady stream of blue jewels throughout the season. To guarantee a healthy and bountiful harvest, don't forget regular watering and provide stakes or cages for necessary support.