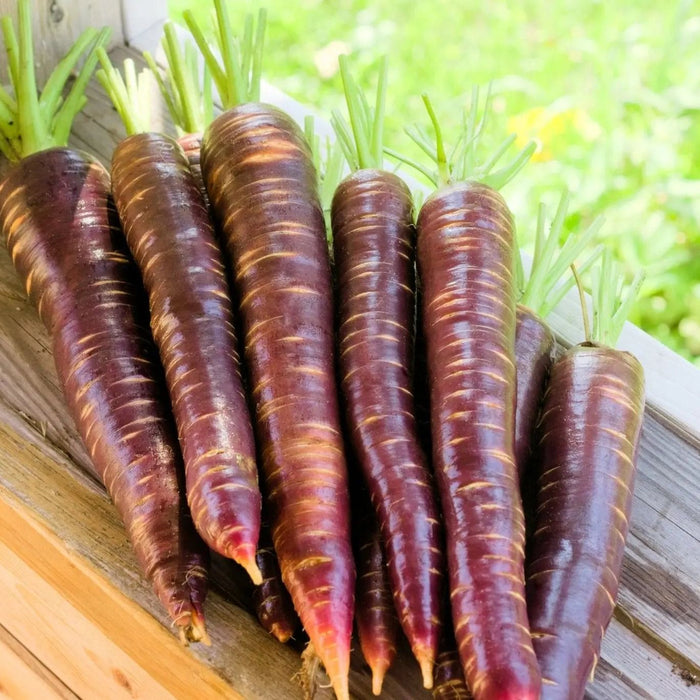 Carrot Seeds - Dragon
Original price
$2.00
-
Original price
$2.00
300 Seeds
70-80 Days from Planting/Transplanting
Type: Medium to Long Carrot
Plant Height: 18-25 inches
Deep Purple Exterior, Bright Orange Core
Rich in Antioxidants
History: Dragon Carrot, a striking and colorful variety, has its heritage intertwined with Asian agricultural practices. Known not only for its dramatic appearance but also its health benefits, this carrot is rich in anthocyanins, the antioxidant compounds responsible for its deep purple hue.
Uses: Beyond its visual appeal, the Dragon Carrot brings a unique taste profile to the table, combining the earthy sweetness typical of carrots with a hint of peppery spice. When sliced or grated, the bright orange core against the deep purple exterior makes for vibrant salads and dishes. It's also a favorite for juicing, where its rich color becomes a visual treat.
Growing Habits & Planting Instructions: Dragon Carrot seeds should be sown around 1/4 inch deep in well-draining, sandy or loamy soil. Given their length, ensuring the soil is free of rocks or obstructions will promote straight growth. Seedlings, once sprouted, should be thinned to a spacing of 2-4 inches apart. This variety thrives in full sun, though it can tolerate light shade. To achieve the juiciest and most flavorful carrots, maintain consistent moisture in the soil without overwatering. The deeper coloration of the Dragon Carrot is intensified with cooler temperatures, so consider planting for a fall harvest.