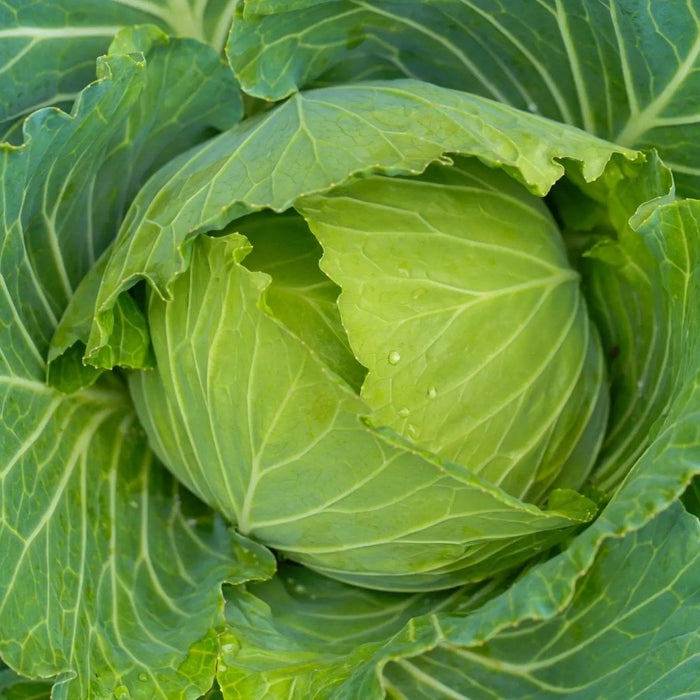 Cabbage Seeds - Early Jersey Wakefield
Original price
$2.00
-
Original price
$2.00
Seed Count: 300 Seeds
Maturity: 70 Days
Climate Resilience: Frost Hardy
Growing Season: Short Season
Flavor Profile: Mild Flavor
Characteristics: Reliable Classic
Type:

 

Conehead Cabbage
Description:
Jersey Wakefield is a conehead cabbage renowned for its pointed or conical shape. Recognizable by its swift maturation and short-season growth, it presents vigorous, upright, and vibrant green foliage. As a distinguished member of the Brassica oleracea family, its culinary versatility is noteworthy. With a mild flavor, Jersey Wakefield can be savored in a myriad of ways - from raw and steamed to sautéed, pickled, or stir-fried.
Uses:
The adaptable nature of this cabbage makes it a prime choice for braising, stuffing, or as a fresh addition to diverse recipes. Market gardeners, in particular, value Jersey Wakefield as a reliable classic, ensuring consistent production and a delectable yield every season.
Planting Instructions:
For optimal growth, sow seeds about 1/4 inch deep, spacing them about 12-24 inches apart in rows set 24-36 inches apart. Jersey Wakefield cabbage performs best in well-draining soil rich in organic matter. Ensure consistent moisture throughout its growth cycle, especially during dry periods. Being frost-hardy, it can be planted a few weeks before the last expected frost in the spring, and it will tolerate cooler temperatures in the fall. Protect from pests like cabbage worms and keep an eye out for any signs of disease.