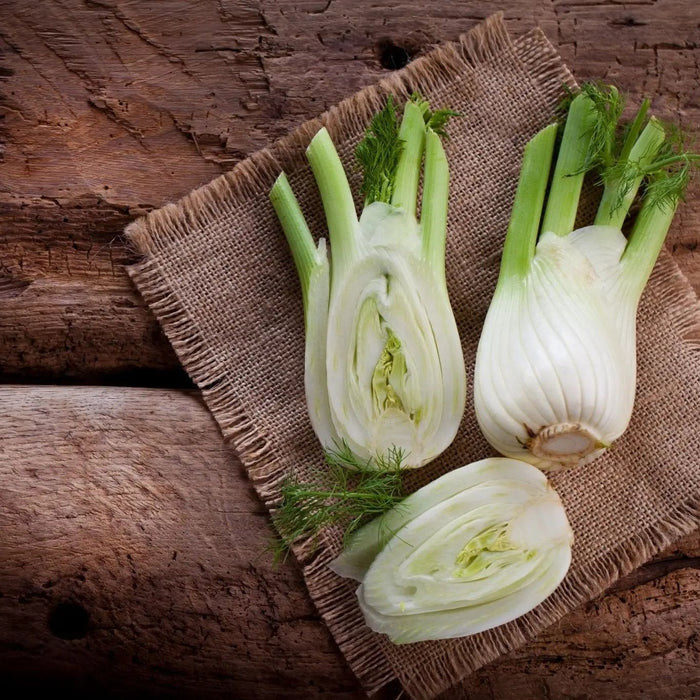 Fennel Seeds - Florence
Original price
$2.00
-
Original price
$2.00
150 Seeds
70-80 Days to Maturity
Perennial or Annual
Grows Up To 3 Feet Tall
Large Bulb-Like Stem
Licorice-Like Flavor
Prefers Full Sun
Well-Draining Soil Needed
History: Originating in the Mediterranean, Florence Fennel, or "finocchio", boasts a rich history tied to culinary and medicinal applications. Ancient civilizations, including the Greeks and Romans, prized its aromatic profile and health benefits. With time, its popularity surged in Italian culinary traditions, cementing its place as a versatile ingredient.
Uses: Florence Fennel's multifaceted nature shines in diverse culinary settings. The swollen bulb is a delightful addition to salads or when grilled, bringing out a charred sweetness. The delicate fronds double as an herbal garnish, and the seeds, rich in flavor, elevate dishes as a spice. This herb's distinct licorice essence complements fish, poultry, and soups, while the seeds have traditional acclaim as a remedy for digestive issues.
Growing Habits & Planting Instructions: Optimal growth for Florence Fennel occurs in full sun, within well-draining soil that maintains a pH between 6.5 and 7.5. Directly sow seeds outdoors during late spring or early summer, ensuring 10-12 inches of spacing. Regular hydration, particularly in arid spells, is essential. As the fennel's bulb expands, mound soil around it, a process known as "blanching", which fosters tenderness and sweetness in the bulb. Harvesting should occur when bulbs approximate the size of tennis balls. Its ability to be cultivated as a perennial or annual depends on regional climates: milder zones favor perennial growth, whereas colder areas necessitate annual planting.