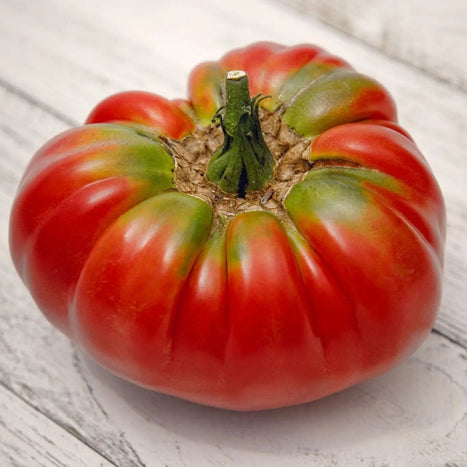 Tomato Seeds - German Johnson Pink
Sold out
Original price
$2.00
-
Original price
$2.00
25 Seeds
Maturity: 76 Days
1 Lb Fruit
Plant Height: 4-6 Feet
Indeterminate Growth Habit
Originates from Humid Regions of North Carolina
Resistant to Rot
Meaty, Pink-Red Flesh
History:
Hailing from the humid regions of North Carolina, the German Johnson Tomato stands tall as a testament to nature's adaptability. This tomato has evolved over time, not just in flavor but also in resilience, making it a trusted favorite among gardeners. Notably resistant to rot, the German Johnson has successfully carved a niche for itself, ensuring its lineage is passed on for generations.
Uses:
A bite into a German Johnson is an immediate burst of juicy, rich flavor. Its meaty, pink-red flesh ensures every dish stands out, whether it's the simple joy of a freshly sliced tomato or the more intricate flavors of cherry-smoked baked German Johnsons. The versatility of this tomato ensures it's the star of the dish, be it in salads, entrees, or even as a standalone snack.
Growing Habits & Planting Instructions:
Being an indeterminate variety, German Johnson will keep producing fruits throughout the season until the first frost. Start by planting the seeds indoors around 6-8 weeks before the last expected frost. Once they are ready to be transplanted outdoors, ensure a spacing of about 24-36 inches apart in rows that are at least 36 inches apart. These plants love the sun, so ensure they get a good amount of it, along with well-drained soil. With a growth height of 4-6 feet, it's recommended to provide a sturdy stake or cage for support as the plant matures and starts bearing its heavy fruits.