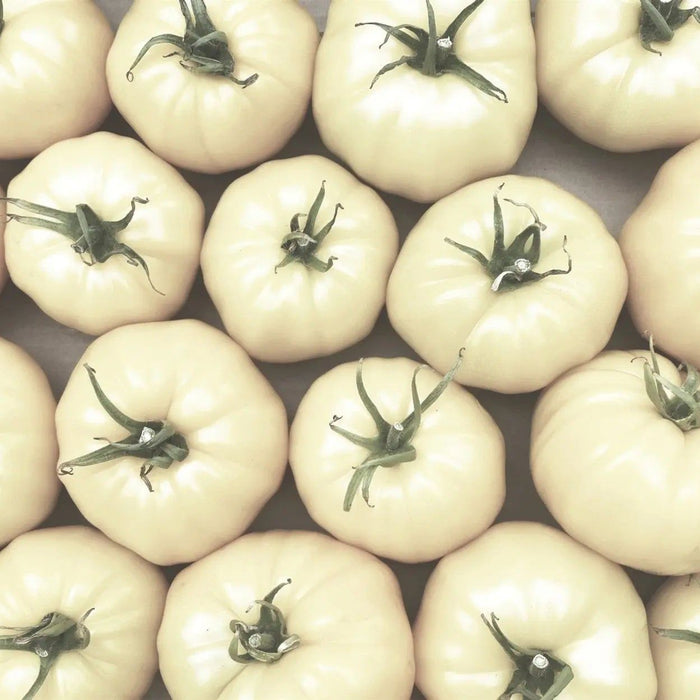 Tomato Seeds - Great White Beefsteak
Original price
$2.00
-
Original price
$2.00
25 Seeds
Maturity: 80 Days
Low Acid
Unique White Tomato
Crack Resistant
Drought Resistant
Few Seeds
Indeterminate Growth Habit
History:
The Great White Beefsteak Tomato, with its distinct nearly pure white coloration, is a remarkable divergence from the typical reds and pinks of most tomatoes. Over time, this variety has carved out its own niche among tomato enthusiasts and growers. Its lineage and development focused not only on its unique color but also on making a tomato that is resilient to various challenges like drought and cracking.
Uses:
Beyond its intriguing color, the Great White Beefsteak offers a delightful culinary experience. Its low acid content and limited seeds make it a favorite for those seeking a milder taste. Whether you're looking to jazz up a salad, create a visually appealing sandwich, or simply want a fresh bite, this tomato delivers on taste without the usual tomato acidity.
Growing Habits & Planting Instructions:
Being of the indeterminate type, the Great White Beefsteak Tomato will continuously produce fruit throughout its growing season. It's recommended to start seeds indoors, roughly 6-8 weeks prior to the last expected frost. When transplanting outdoors, give them a space of 24-36 inches in rows spaced 36 inches apart. These tomatoes are sun lovers and will thrive best in well-draining soil. Given their indeterminate nature and the potential size of the fruit, it's a good idea to stake or cage the plants, offering them the support they need as they reach their full height and begin fruit production.