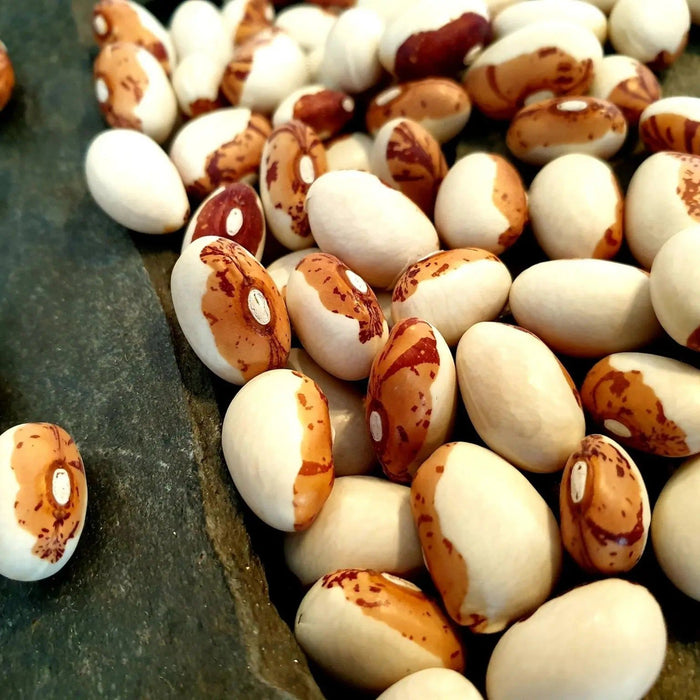 Bean Seeds - Hidatsa Shield
Sold out
Original price
$2.00
-
Original price
$2.00
35 Seed Packet
90 Days from Planting/Transplanting
Extremely Productive Yield
Distinctive White Beans with Brown to Tan Patterns
Pole Bean Growth Habit
Primarily Used as a Dry Bean
Historical Significance:
Hidatsa Shield Beans have deep roots in cultural history, originating from the Hidatsa people. As one of the most popular beans among growers with shorter growing seasons, they've earned a special place in gardens and on plates, preserving the traditions and culinary practices of the Hidatsa community.
Uses & Benefits:
The beans are as unique in flavor as they are in appearance. Taking on the shape of a shield, their distinctive white hue combined with brown to tan patterns make them stand out. As a dry bean, they offer a hearty texture and robust flavor, making them an excellent choice for soups, stews, and various culinary creations. Their popularity is further heightened by their abundant yield, ensuring you have plenty to harvest, cook, and share.
Growing Habits & Planting Instructions:
Hidatsa Shield Beans exhibit a pole bean growth habit, so they'll require some support, like trellises, to climb and flourish. Plant seeds about 1-1.5 inches deep in well-draining soil, spaced about 3-4 inches apart. They love sunlight, so ensure they're placed in a sunny spot. Regular watering, especially during their flowering and pod formation stages, will further enhance their yield. In just 90 days, you can expect a generous harvest of these uniquely patterned beans.
With Hidatsa Shield Beans, you're planting a piece of history and reaping a bounty of flavor. A testament to nature's beauty and abundance, these beans promise both a visual and gastronomic delight.