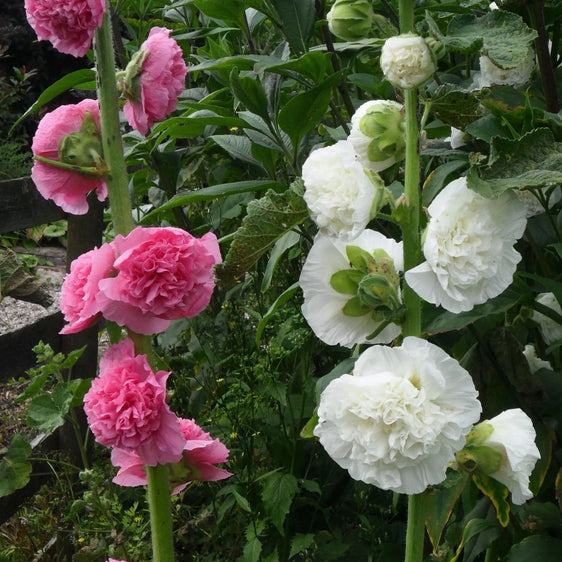 Hollyhock Seeds - Chater's Double Mixed
Original price
$2.00
-
Original price
$2.00
Seed Count: 20 Seeds
Maturity Date: Second year for biennials; blooms in summer
Plant Type: Biennial
Origin: Native to Asia and Europe
Height: Up to 90 inches
Color Range: Red, orange, yellow, bronze, brown, purple, white
Light Requirement: Full sun
Soil Preference: Rich, well-drained soil
History: Hollyhocks have a storied past that stretches back centuries, primarily originating from Asia and Europe. The Chater's Double variety is a magnificent cultivar known for its classic double flowers. It has been cultivated for its beauty and unique characteristics, becoming a favorite in gardens around the world. This variety, with its array of stunning colors, has been a darling of gardeners and botanists alike. Named after the horticulturist Henry Chater, who specialized in breeding these beautiful plants, Chater's Double hollyhocks are a mark of quality and a symbol of gardening tradition.
Uses: Chater's Double Hollyhocks are incredibly versatile and make a grand statement in any garden. They are often used as a backdrop for lower-growing plants in flower beds, creating a vertical element that adds depth and interest. Their tall spikes of large, double flowers also make for impressive standalone plants. They're excellent for cottage gardens, traditional flower beds, and even as a cut flower for indoor arrangements. Moreover, their nectar-rich blossoms attract pollinators, enhancing the overall health and vitality of your garden ecosystem. Though they are not commonly used for culinary or medicinal purposes, their primary role is to bring unmatched aesthetic value to landscapes.
Growth Habit & Planting Instructions: Chater's Double Hollyhocks are biennials, meaning they generally bloom in their second year. To get started, plant the seeds indoors 8-10 weeks before the last frost date, or sow them directly into the ground in late summer for blooms the following year. The seeds should be placed about 1/4-inch deep in rich, well-drained soil. They prefer a sunny location but can tolerate partial shade. Once the seedlings are large enough to handle, thin them to a spacing of about 18-24 inches apart to allow for their large blooms and to encourage good air circulation, which helps prevent rust disease. Hollyhocks are relatively easy to care for: they need moderate watering and benefit from a layer of mulch to keep the soil moist. An application of a balanced fertilizer in the spring can boost growth and flower production. Stake the tall flower spikes if necessary to keep them upright, especially in windy locations. Deadhead spent blooms to encourage a longer flowering season.