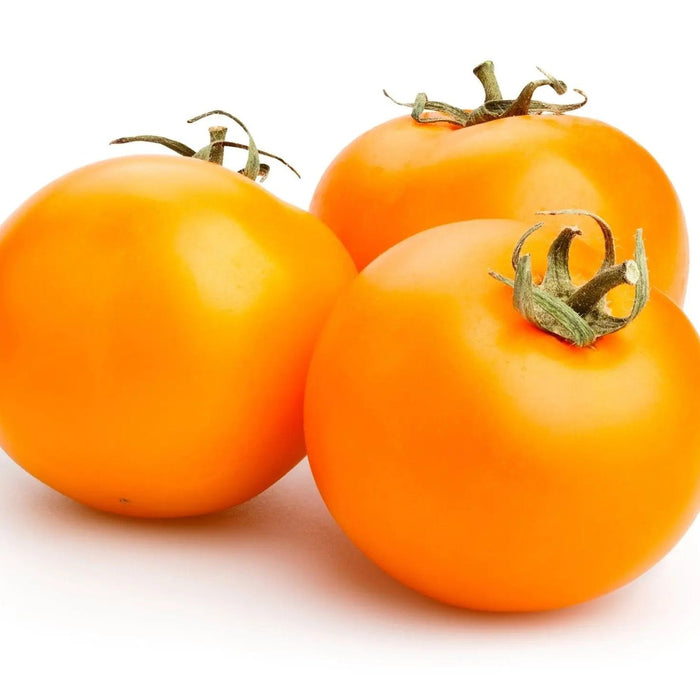 Tomato Seeds - Jaune Flammee
Sold out
Original price
$2.00
-
Original price
$2.00
Jaune Flamme Tomato
25 Seeds
Maturity: 80 Days
Apricot-Orange Hue
4 Ounce Fruits
Balanced Sweet & Tart Flavor
Indeterminate Growth Habit
Originated in Helliner, France
Commercialized in 1997
History:
Tracing its roots back to Norbert Perreira of Helliner, France, the Jaune Flamme Tomato has been delighting tomato enthusiasts since its inception. Commercialized by the Tomato Growers Supply Company in 1997, this tomato, with its striking apricot-orange hue, has quickly established its place in gardens and kitchens worldwide.
Uses:
Jaune Flamme Tomatoes are perfect for those who appreciate a flavor that strikes a balance between sweet and tart. Their medium size and vibrant color make them an excellent choice for salads, salsas, or simply enjoying fresh off the vine. Whether you're looking to add a pop of color to a dish or seeking a tomato with a unique taste profile, Jaune Flamme delivers.
Growing Habits & Planting Instructions:
Being of the indeterminate type, Jaune Flamme Tomatoes will continually produce fruit throughout the season. It's recommended to start the seeds indoors approximately 6-8 weeks before the last expected frost date. Once you're ready to transplant outdoors, ensure plants are spaced around 24-36 inches apart in rows spaced 36-48 inches apart. These tomatoes thrive in full sun and well-drained soil. Regular watering and periodic fertilizing will bolster your chances of a healthy harvest. As the fruits ripen, their distinct apricot-orange hue will intensify, signaling the right time to harvest.