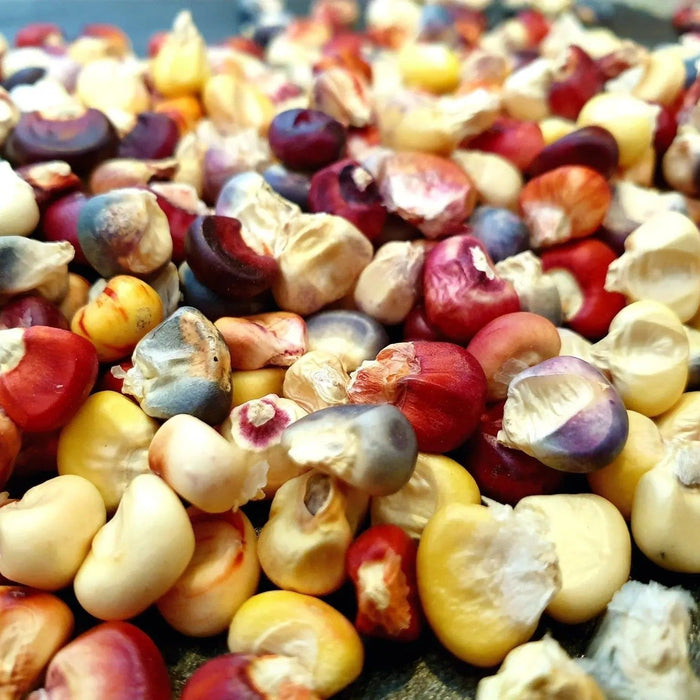 Corn Seeds - Mandan Bride
Original price
$2.00
-
Original price
$2.00
80 Seeds
100-110 Days from Planting/Transplanting
Medium to Tall Stalk Colorful Kernels
Flour Corn
History: Mandan Bride Corn is deeply entwined with the heritage of the Mandan people of the upper Midwest. Recognized for their agricultural expertise, the Mandan have cultivated and refined this particular variety of traditional flour corn for generations, ensuring its continued presence for future generations.
Uses: This corn is cherished not just for its vibrant, colorful kernels, but also for its culinary prowess. The powerful and rich flavor of Mandan Bride Corn makes it a favorite for grinding into cornmeal. When used in traditional recipes, the resulting cornmeal delivers a taste that evokes history, culture, and the care of countless generations of Mandan farmers.
Growing Habits & Planting Instructions: Sow the seeds approximately 1 inch deep, ensuring they are spaced 8-12 inches apart in rows 24-36 inches apart. Mandan Bride Corn favors full sunlight and thrives in fertile, well-drained soil. Regular watering, especially during key growth stages like flowering and kernel development, is essential for a successful harvest. The medium to tall stalks will eventually bear ears adorned with a mosaic of colorful kernels, a testament to both its beauty and its rich heritage.