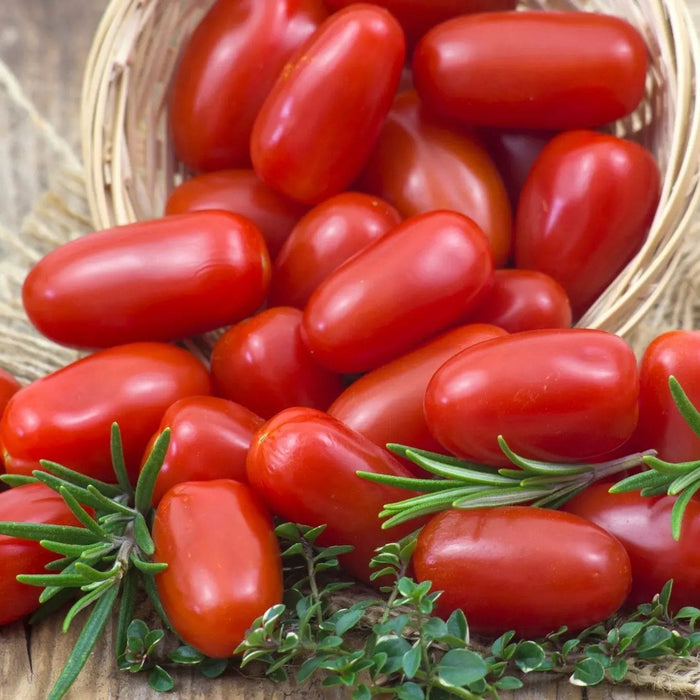 Tomato Seeds - Martino's Roma
Sold out
Original price
$2.00
-
Original price
$2.00
25 Seeds
Maturity: 70-80 Days
Plant Habit: Compact and Determinate
Fruit Size: 2-3 Oz per Fruit
High Yielding Variety
Blight Resistant
Meaty Flesh with Few Seeds
Plum-shaped Tomatoes
History:
Martino's Roma tomato traces its lineage to rich Italian farming traditions. Esteemed for its consistent yields and robust flavor, it has been a cherished variety passed down through generations. Its moniker, "Martino's Roma", pays homage to its roots, evoking images of sun-soaked Italian fields and age-old culinary practices. This variety's adaptability and resistance to common tomato ailments have further solidified its place in the annals of tomato-growing history.
Uses:
Rich in flavor and densely packed with meaty flesh, Martino's Roma is the tomato of choice for many culinary applications. Its minimal seed content makes it particularly well-suited for sauces, where a smooth consistency is desired. With its distinctive plum shape and rich taste, it can elevate dishes ranging from classic marinara sauces to bruschettas and salads. Furthermore, its consistent size and flavorful profile make it a favorite for market gardens, ensuring a steady demand throughout the growing season.
Growing Habits & Planting Instructions:
Martino's Roma tomato is a determinate variety, meaning its growth is compact, and it produces its fruit in a short span, typically all at once or over a brief period. Start seeds indoors around 6-8 weeks before the last expected frost. Once the threat of frost is over, transplant them outdoors, spacing plants about 24-30 inches apart. Despite their compact nature, a minimal support like a stake can be beneficial. Plant them in well-drained soil and ensure they receive ample sunlight. Given their blight resistance, they fare well against some common tomato diseases, but it's always a good practice to monitor for any signs of pests or other issues. Harvest the tomatoes once they reach their full size and exhibit a rich, red hue.