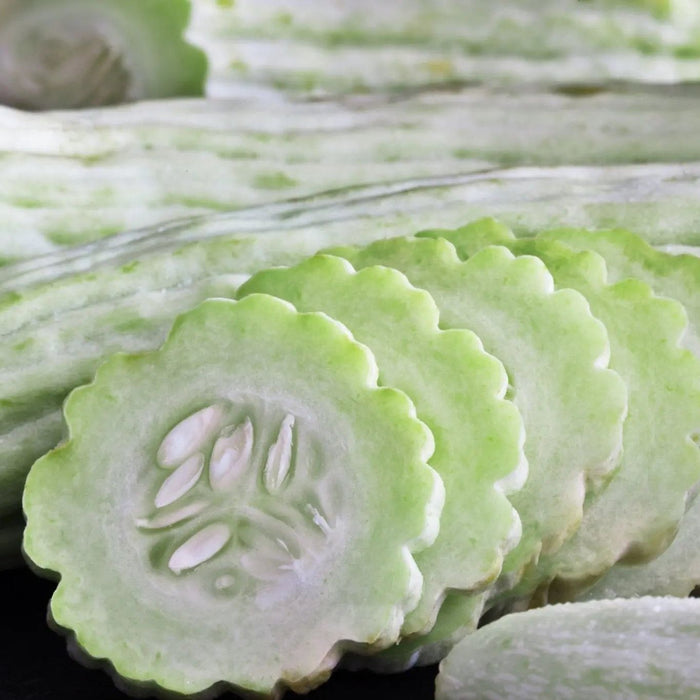 Cucumber Seeds - Armenian Cucumber
Original price
$2.00
-
Original price
$2.00
50 Seeds
Maturity: 50-75 Days from Planting
Melon Variety (Cucumis melo) Acting as a Cucumber
Fruit Length: Up to 24 Inches
Burpless, Crunchy Flavor
Optimal for Pickling
Light Green, Ribbed Skin
Thrives in Hotter Climates
History:
Despite its name and behavior, the Armenian cucumber is not truly a cucumber. Instead, it's an intriguing example of nature's versatility, being a member of the melon family (Cucumis melo) that has assumed a cucumber's role. Originating from the Armenian region, this variety has been cultivated for its unique characteristics and has, over time, made its way into gardens across the world.
Uses:
The Armenian cucumber's unique genetic makeup provides it with a burpless and crunchy flavor profile, making it a delightful addition to salads or eaten raw. With its ribbed, light-green skin, the cucumber not only offers a refreshing taste but also doubles as a fantastic pickling option. Thanks to its distinctive taste, it's rapidly becoming a favorite among culinary enthusiasts.
Growing Habits & Planting Instructions:
The Armenian cucumber is a wonder in the garden, showcasing its adaptability in various conditions. It especially thrives in warmer climates, producing prolific yields. To cultivate, plant the seeds in well-draining soil, ensuring they receive ample sunlight. While planting on the ground will result in coiled fruits, those looking for straighter produce should opt for a trellis. Regular watering and a watchful eye will ensure a bountiful harvest, with the cucumber signaling its readiness with its characteristic light-green hue and ribbed texture.
Embrace a unique blend of melon and cucumber with the Armenian Cucumber Seeds!