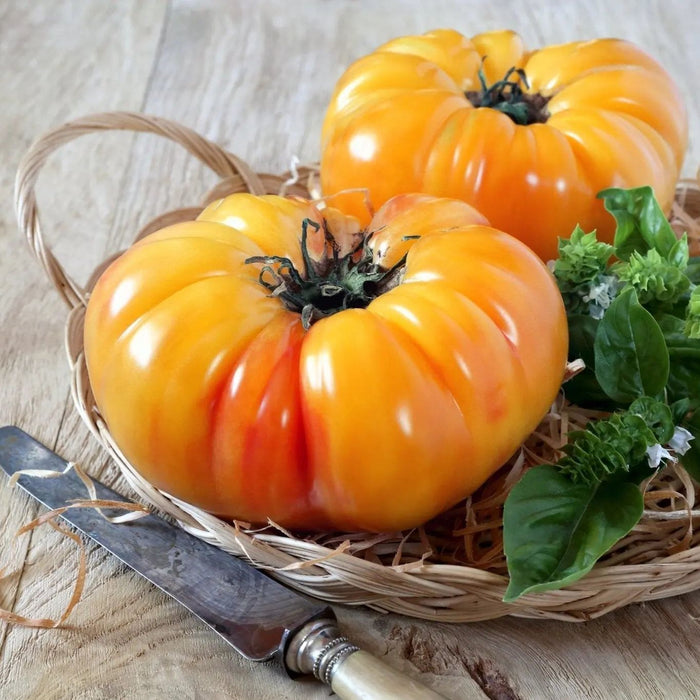 Tomato Seeds - Pineapple
Original price
$2.00
-
Original price
$2.00
25 Seeds
75-95 Days to Maturity
Multicolored: Large Yellow Fruits with Red Marbling
Sweet, Fruity Flavor
Each Fruit Weighs Up to 2 Pounds
Adaptable to Various Planting Methods, Including Containers
Deepens in Sweetness as it Matures
Indeterminate Growth Habit
History:
The Pineapple Tomato, despite its tropical name, is a beloved heirloom variety that has graced gardens for generations. It's renowned not just for its stunning appearance but also for its unique and memorable flavor. A blend of colors and tastes, the Pineapple Tomato is a true garden treasure and is a testament to the diversity and richness of heirloom vegetables.
Uses:
The Pineapple Tomato offers a dual sensory experience – a visual feast of yellow flesh streaked with vibrant red and a burst of sweet, fruity flavor when bitten into. This tomato stands out in salads, sandwiches, and even as a colorful addition to salsas. Its substantial size also makes it perfect for stuffing or baking, and its flavor profile complements a range of spices and herbs.
Growing Habits & Planting Instructions:
This indeterminate variety will reward gardeners with a continuous supply of fruit throughout the season. To start your Pineapple Tomato journey, sow seeds indoors approximately 6-8 weeks prior to the last expected frost. Choose a sunny spot with good drainage for transplanting. Plant seeds about 1/4 inch deep, spacing them 24-36 inches apart in rows. Regular watering will ensure healthy growth, especially during dry periods. Due to the potential height and weight of the fruits, staking or caging is recommended to provide the necessary support. Harvest when the tomatoes showcase their brilliant yellow hue interlaced with deep red, ensuring optimum sweetness and flavor.