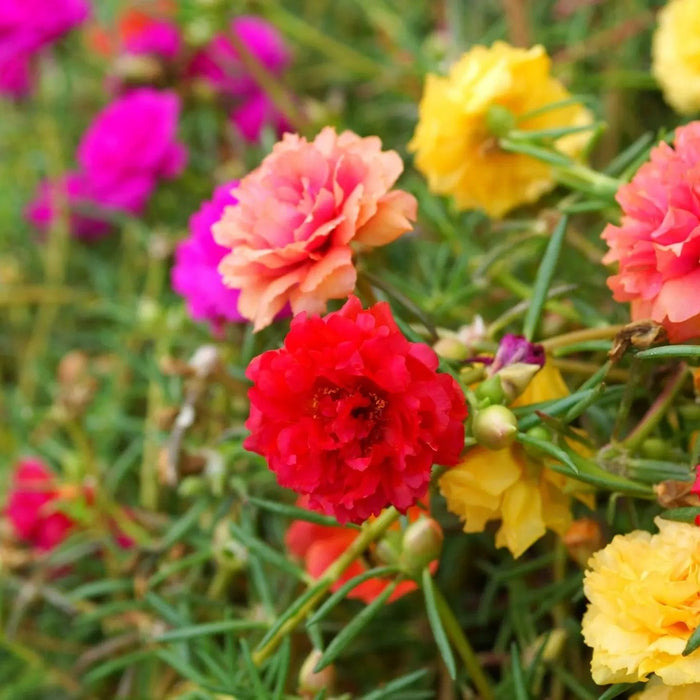 Portulaca Seeds - Mixed Colors
Sold out
Original price
$2.50
-
Original price
$2.50
Seed Count: 4000 seeds
Maturity Date: Mid to Late Summer
Height and Spread: 6-12 inches tall and wide
Light Requirement: Full Sun
Soil Requirement: Well-drained soil
Water Requirement: Minimal, drought-tolerant
Flower Colors: Yellow, orange, red, pink, and white
Additional Features: Deer-resistant, attracts pollinators
History: Portulaca Grandiflora, commonly known as Moss Rose or simply Portulaca, is a succulent native to South America but has gained immense popularity across the globe for its resilience and vivid colors. Early records indicate that this plant was admired for its beauty and practicality, being both visually appealing and drought-resistant. Over the years, horticulturists have developed a wide range of varieties, leading to the mixed-color packets available today. The adaptability of Portulaca makes it a favorite in a variety of garden settings, from tropical climates to arid regions.
Uses: Portulaca Mixed Colors is a versatile plant that serves multiple purposes in a garden. Its vibrant, showy flowers make it an excellent choice for rock gardens, succulent gardens, and ground covers. It's also great for containers and hanging baskets, brightening up patios and balconies. The plant is deer-resistant, reducing the risk of garden grazing. Moreover, the bright blooms attract pollinators like bees and butterflies, enhancing biodiversity in your outdoor space. Its drought tolerance makes it an ideal pick for xeriscape gardens or gardens with limited water resources.
Growth Habit and Planting Instructions: Portulaca plants are low-maintenance and perfect for gardeners looking for drought-tolerant options. They typically reach a height and spread of 6-12 inches. The plant thrives in full sun and well-drained soil, conditions that help produce its large, vibrant flowers. To plant, simply scatter the seeds on the soil surface and press them lightly into the soil; covering them is not necessary. Water lightly to set the seeds, and then only water when the soil feels dry to the touch. Blooms typically appear in mid to late summer and last for an extended period, closing in the evening and on cloudy days. This annual often self-seeds, providing continuous color year after year without the need for replanting.