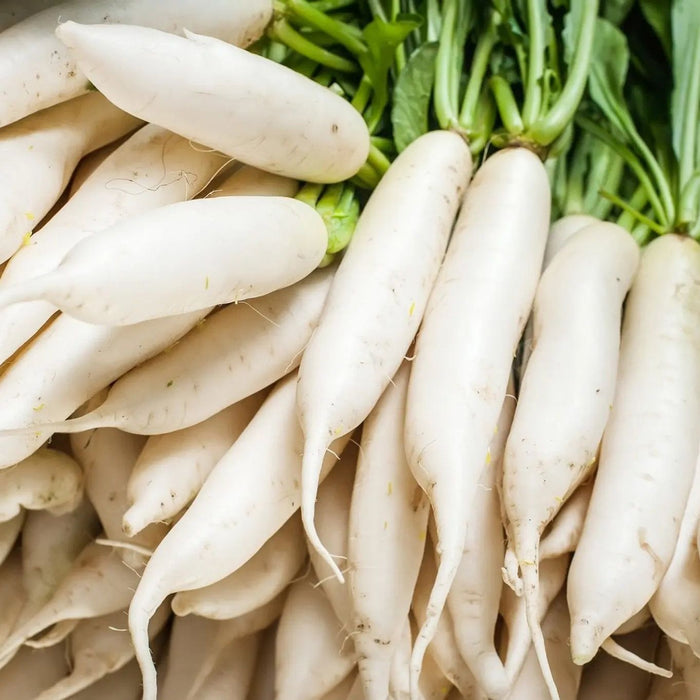 Radish Seeds - Japanese Daikon/Fracking
Original price
$2.00
-
Original price
$2.00
Seed Count: 250 Seeds
Soil Improvement: Breaks through compacted soil and softens it.
Agricultural Benefits: Holds nitrogen in soil.
Root Attributes: Delicious crunchy root.
Origin: Native to the temperate zone of East Asia.
Distinct Feature: Very dense taproot that reaches deep into the soil.
Growth Resilience: Tolerates poor soil conditions and high traffic areas.
Usage: Great when fresh, stir-fried, or pickled.
History: The Japanese Daikon Radish has its origins in the temperate zones of East Asia and has been cultivated for its distinct root and numerous agricultural benefits for centuries. Its name, "Daikon," translates to "big root" in Japanese, aptly describing its most defining characteristic. Over the years, as it spread globally, its significance as both a crop and a culinary delight was recognized and embraced.
Uses: While the daikon radish is renowned as an effective cover crop, it is equally celebrated for its culinary uses. Its sweet and crunchy root can be enjoyed in various dishes. Whether consumed fresh in salads, stir-fried for a delightful crunch, or pickled for a tangy treat, the Japanese Daikon Radish offers a versatile flavor profile that complements many dishes. Additionally, its ability to hold nitrogen improves the nutritional content of the soil, making it beneficial for subsequent crops.
Growth Habit & Planting Instructions: For best results, plant daikon radishes in well-draining soil, ensuring they have ample sunlight. Their robust nature allows them to thrive even in poor soil conditions. The seeds should be sown about half an inch deep, spaced approximately 2-3 inches apart. Regular watering ensures optimal growth. Typically, daikon radishes are planted in the summer when they serve as a cover crop, suppressing weeds and breaking compacted soil. By late fall or early winter, they can be harvested for their sweet roots. If used for soil conditioning, they can be left to decompose, enriching the soil further.