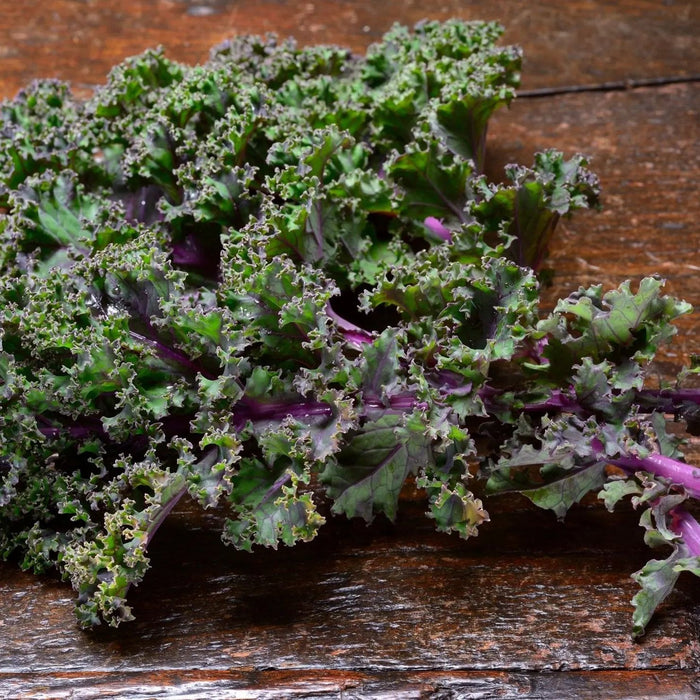 Kale Seeds - Red Russian
Original price
$2.00
-
Original price
$2.00
300 Seeds
50-60 Days to Maturity from Transplant
Mild yet Sweet Flavor Profile
Remarkable Cold Tolerance
Distinctive Purple Veins on Leaves
Flat Leaf Structure
Ideal for Salads and Light Cooking
History: The Red Russian Kale, known for its distinctive purple veins and flat leaves, traces its roots back to Siberia before being introduced to Canada by Russian traders in the 19th century. Over time, this variety has been recognized for its beauty and resilience, making it a sought-after choice for gardeners and farmers globally.
Uses: One of the notable traits of Red Russian Kale is its mild yet sweet flavor profile. The leaves, possessing an earthy and slightly tangy taste, serve as an ideal ingredient for salads, providing a fresh crunch. Its versatile nature means it's also perfect for light cooking methods like sautéing or steaming. In culinary contexts, it often stands out due to its unique appearance and flavor.
Growing Habits & Planting Instructions: For a successful harvest of Red Russian Kale, select an area that receives ample sunlight. Plant the seeds about a 1/4 inch deep, spacing them 12-15 inches apart in rows that are 18-24 inches apart. Given its remarkable cold tolerance, this kale thrives even as temperatures drop, often sweetening after a frost. Its medium-tall growth ensures that the plant retains its vitality throughout fall, allowing an extended harvest period. Regular watering, without oversaturation, is key. To maximize freshness and prolong storage life post-harvest, it's recommended to immerse the leaves in cold water.