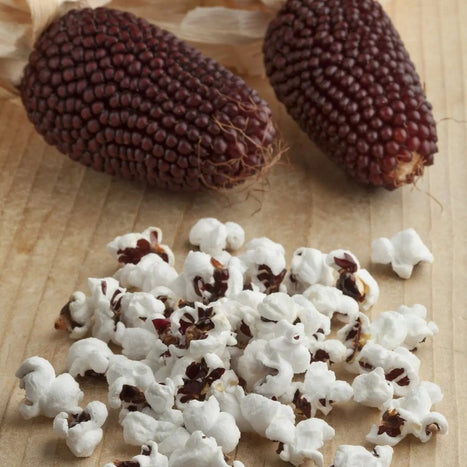 Corn Seeds - Red Strawberry Popcorn
Original price
$2.00
-
Original price
$2.00
20 Seeds
100 Days from Planting/Transplanting
Grows up to 5-6 feet tall
Produces 2-4 ears per stalk
Unique strawberry-shaped popcorn kernels
History: Strawberry Popcorn Corn, with its unique kernel shape reminiscent of a strawberry, is not just a visual delight but also a culinary gem. While its ornamental attributes are evident in vibrant red kernels set against pale husks, its heritage is rooted in agricultural innovation and a keen eye for aesthetics.
Uses: Apart from enhancing autumn displays, this corn variety serves dual purposes. Its kernels, when popped, reveal a fluffy, tasty treat, making it an excellent choice for those movie nights or family gatherings. However, its beauty isn't confined to just fall displays. Incorporating these artistic ears into bridal bouquets or as event centerpieces adds a touch of nature's artistry, fusing tradition with modern aesthetics.
Growing Habits & Planting Instructions: To achieve the best results, sow the seeds directly into the soil after the danger of frost has passed. This corn variety thrives in full sunlight and requires well-drained, fertile soil. Regular watering ensures healthy growth, especially during the kernel formation stages. Given its unique popcorn attribute, ensuring isolation from other corn varieties will help maintain its special characteristics.