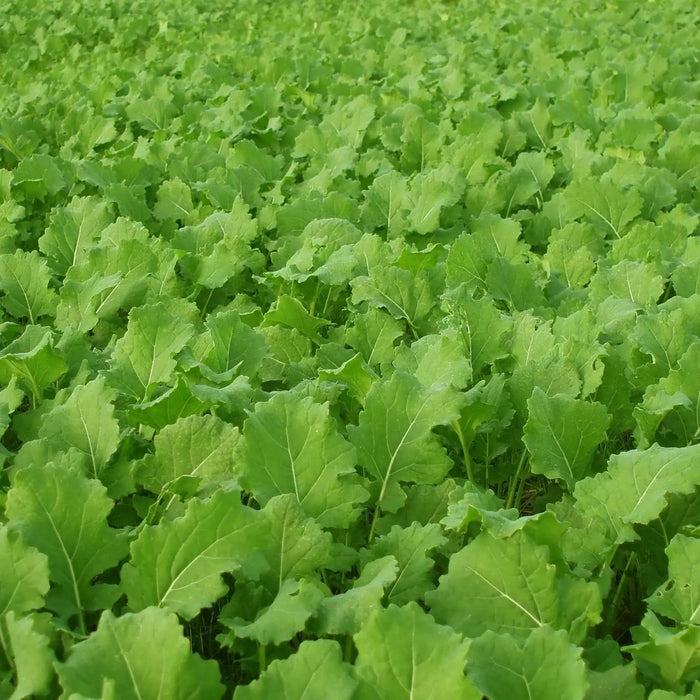 Turnip Seeds - Seven Top
Original price
$2.00
-
Original price
$2.00
Seed Count: 300 Seeds
Maturity Timeframe: 30-60 Days from Planting
Leaf Growth: 12-22" Leaves
Root Characteristics: Small and Woody
Plant Height: 18-24 inches tall greens
Nutritional Value: High in Vitamins K, C, Calcium, and Antioxidants
Planting Preferences: Prefers Full to Part Sun
Botanical Name: Brassica rapa
Origin & History:
The Seven Top Turnip variety has a storied past, predominantly adorning the gardens of the Southern United States. Celebrated not for its roots but for its verdant, leafy tops, this variety stands as a testament to traditional gardening choices. However, in recent times, it has become rarer, making it a precious find for modern gardeners.
Uses:
Unlike most turnip varieties, the Seven Top Turnip's star feature is its leaves. The young, tender leaves can add a zesty touch to salads, while the matured ones can be expertly sautéed or paired with other vegetables to create a delightful dish. The plant's swift growth also positions it as an apt choice for successive plantings. Furthermore, it can multitask as a cover crop or even contribute to pasture.
Growing Habits & Planting Instructions:
Planting the Seven Top Turnip is a straightforward endeavor. Begin by choosing a location with full to partial sun exposure. Sow the seeds directly into the ground, at a depth of 1/4-1/2 inch. Initial seed spacing should be about 1 inch apart in rows 12-18 inches distant from each other. After the seedlings have emerged and established themselves, thin them out, ensuring a spacing of 4-6 inches between each plant. Remember, the primary focus is on the greens, so ensuring ample space for them to flourish is essential.
Step into the world of leaf-centric turnips with our premium Seven Top Turnip Seeds. Whether you're seeking a nutritious addition to your meals or an enriched soil bed, this variety promises to deliver on both fronts. Add it to your garden today and relish its abundant greenery!