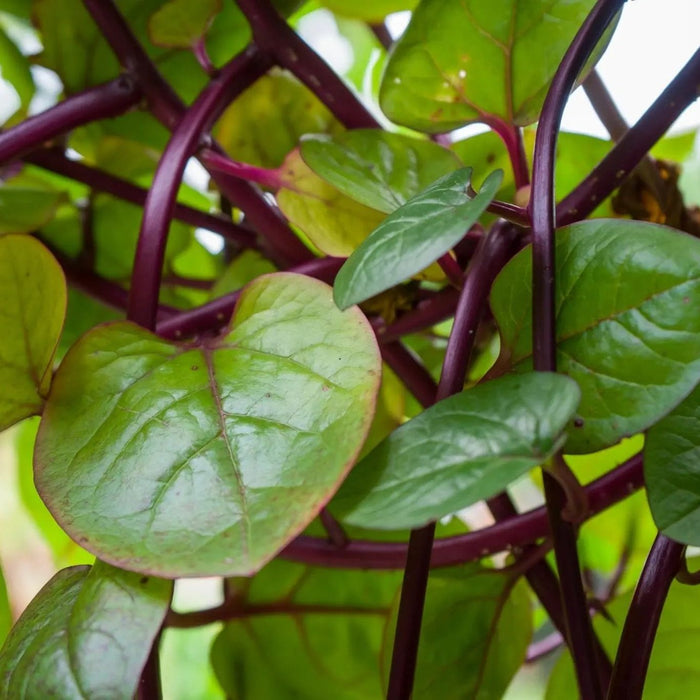 Spinach Seeds - Red Malabar
Original price
$0.00
-
Original price
$0.00
50 Seeds
70 Days
Red leaf veins and stems
Not a true spinach but taste similar
Sprouts are cut to eat as greens
Free-branching climber
Heat tolerant
Grows as a perennial in warmer climates
History: Basella rubra, commonly known as Malabar spinach, has been a treasured staple in Asian and tropical regions for centuries. Despite its name, it's not a true spinach but shares a similar taste profile. Originating from India and Indonesia, this plant's lush appearance, coupled with its rich history of culinary and medicinal uses, has made it a favorite in diverse gardens worldwide.
Uses: This multi-faceted plant truly shines in its versatility. On the culinary front, its leaves offer a spinach-like flavor, making it a popular choice in various dishes. Moreover, its dark berries can be utilized to produce a natural, vibrant dye. While the plant serves up impressive functional purposes, its aesthetic value cannot be overlooked. With striking red vines, it acts as a decorative wonder, perfectly suited for wall trellises, tunnels, and as an ornamental focal point in gardens.
Growing Habits & Planting Instructions: Basella rubra is a free-branching climber, reaching impressive lengths and providing a cascading green canopy accented by its distinct red leaf veins and stems. When planting, select a site with good sunlight and well-draining soil. Given its heat-loving nature, it thrives in warm conditions and is remarkably heat tolerant. While it's sensitive to frost, in sub-tropic climates, it boasts perennial growth, coming back year after year. Seeds can be directly sown after the last frost, or for an earlier start, consider indoor seeding and later transplanting the young plants outdoors.
A combination of beauty, resilience, and versatility, the Basella rubra promises to be a garden favorite, serving both culinary and ornamental needs with aplomb.