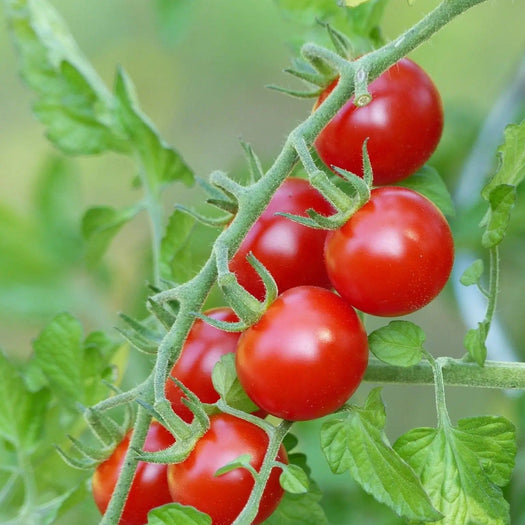 Tomato Seeds - Sweetie Cherry
Original price
$2.00
-
Original price
$2.00
25 Seeds
50 Days to Maturity
Indeterminate Growth Habit
Bright Rosy-Red Skin When Ripe
Distinctive Rich, Fruity Flavor
Highly Productive Variety
Less Watery Flesh, Ideal for Cooking
Shiny Appearance
History:
The Sweetie Cherry Tomato has grown in popularity over the years due to its distinctive taste and versatility in cooking. While its origins are not as ancient as some heirlooms, its reputation as a delicious, easy-to-grow cherry tomato has made it a staple in many gardens and kitchens.
Uses:
These vibrant little fruits are more than just a salad enhancer. Thanks to their less watery content and rich fruity taste, Sweetie Cherry Tomatoes excel when roasted, fried, or stewed, allowing for a myriad of culinary applications. Their sweet flavor profile makes them a delightful snack straight off the vine, but they're equally impressive in sauces, bruschettas, and other tomato-based dishes. Their shiny appearance also makes them a visually appealing garnish or addition to dishes.
Growing Habits & Planting Instructions:
Being an indeterminate variety, the Sweetie Cherry Tomato plant will continue to grow and bear fruit throughout the season until the first frost. This type of tomato thrives when staked or caged, allowing for better air circulation and ease of harvesting. For best results, start the seeds indoors 6-8 weeks before the last expected frost. Once the seedlings have grown and the risk of frost has passed, transplant them outdoors in a sunny location with well-draining soil. Regular watering and occasional feeding with a balanced fertilizer will ensure a bountiful harvest. Given their high productivity, be prepared for an abundance of delicious tomatoes throughout the season!