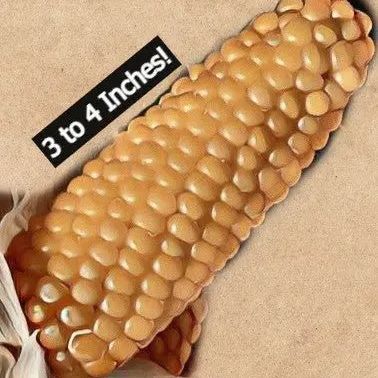 Corn Seeds - Tom Thumb Popcorn
Sold out
Original price
$2.00
-
Original price
$2.00
Seed Count: 50 Seeds
Maturity: 85-90 Days
Ears Produced: 1-2 Ears Per Stalk
Ideal for Short Growing Seasons
Plant Height: Grows Up To 3-4 Feet
Suitable for Small Pots
Origin: Developed by Professor Elwyn Meader in the late 1800s
Perfect for Movie Nights or Gatherings
History: Tom Thumb popcorn, a testament to innovation in agricultural development, traces its roots to the late 1800s. The brainchild of Professor Elwyn Meader from the University of New Hampshire, this unique popcorn variant was introduced to cater to those looking for space-saving crops without compromising on quality or yield. Standing out with its petite stature, Tom Thumb popcorn marked a revolution in popcorn cultivation, symbolizing that great things can indeed come in small packages.
Uses: When one thinks of a cozy movie night or a lively tailgating event, the aroma of freshly popped corn often wafts through the memories. Tom Thumb popcorn, with its compact ears, is perfect for these occasions. Easily popped to perfection, its kernels burst forth into fluffy morsels that offer a delightful crunch. Its size and quality have made it a preferred choice for many households and gatherings.
Growing Habits & Planting Instructions: Being distinct in its short stature, Tom Thumb popcorn is a dream for those with limited gardening space. Growing up to a modest height of 3-4 feet, it's the only popcorn variety that thrives effortlessly in small pots, making it an urban gardener's delight. For optimal growth, the plant prefers full sunlight and well-draining soil. Plant seeds in moist soil, ensuring there's adequate spacing for the stalks to grow without crowding. Given its shorter growth cycle of 85-90 days, it's particularly suited for regions with shorter growing seasons. Regular watering, combined with periodic checks for pests, will ensure a bountiful harvest of popcorn-ready ears.