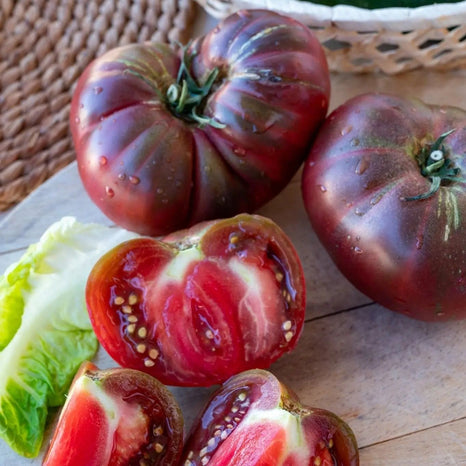 Tomato Seeds - Black Krim
Original price
$2.00
-
Original price
$2.00
Seed Count: 25
Maturity Date: 70-90 Days Post-Transplanting
Coloration: Violet-Brown to Purple-Red, Deepening with Sun Exposure
Type: Beefsteak Tomato Variety
Flavor Profile: Renowned for its Rich and Complex Taste
Growth Pattern: Indeterminate
Distinct Features: Green to Brown Shoulders and a Unique Darkened Hue
Origin: Crimean Peninsula
History:
The Black Krim Tomato, known in some circles as Black Crimea, bears a history as rich as its flavor. Its origins trace back to the politically tumultuous Crimean Peninsula, straddling Ukraine and Russia. But politics and boundaries have little to do with the rise of this tomato's fame. By 1990, the unique 'black' tomato made its debut in the United States, quickly becoming a favorite among gardeners and chefs. Its notoriety isn't just due to its striking appearance but largely its unparalleled taste.
Uses:
With a reputation as one of the best-tasting tomatoes on the market, Black Krim has cemented its place in many dishes. The deep, dark hue of its skin, combined with its incredibly rich flavor, makes it an excellent choice for both culinary creations and fresh consumption. Its beefsteak-type consistency lends itself to hearty salads, thick sandwich slices, and even as the star ingredient in flavorful sauces.
Growing Habits & Planting Instructions:
To cultivate Black Krim in your garden, start seeds indoors around 6-8 weeks before the anticipated last frost date. As these plants grow, they seek the sun, with increased sunlight intensifying their unique dark hue. Once ready for transplanting, space them approximately 24-36 inches apart, preferably in areas with abundant sunlight. An indeterminate variety, Black Krim will reward your gardening efforts with a consistent supply of tomatoes throughout the season. Regular watering and occasional fertilization will help ensure a bountiful and flavorful harvest.