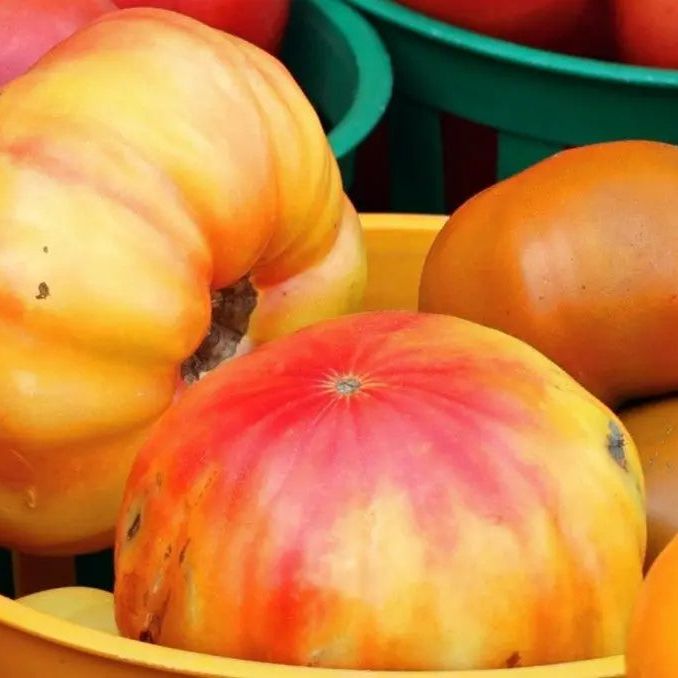 Tomato Seeds - Gold Medal
Original price
$2.00
-
Original price
$2.00
Seed Count: 25 per packet
Maturity: 75-90 Days
Fruit Type: Large, bi-colored (orange-yellow with red blush)
Average Weight: 1-3 pounds
Plant Type: Indeterminate
Soil pH Preference: 6.0 to 7.0
Optimal Temperature Range: 75 to 95 degrees Fahrenheit
Origin: Bred by Ben Quisenberry, known for its sweetness
History: Gold Medal Tomato is an heirloom variety, bred by the renowned seed collector, Ben Quisenberry. This variety is celebrated for its beautiful, bi-colored fruit and its exceptional sweet flavor. Quisenberry described it as "The sweetest tomato you ever tasted," a testament to its unique taste profile. It's a part of a rich heritage of heirloom tomato cultivation and stands out as one of the most visually striking and delicious varieties.
Uses: With its large, attractive fruits weighing between 1-3 pounds, the Gold Medal Tomato is perfect for slicing and adding to sandwiches and salads. Its sweet, mild flesh and low acidity make it a delightful choice for fresh eating. The visually striking appearance of the fruit, with its orange-yellow skin blushed with red, also adds aesthetic appeal to culinary presentations.
Growing Habits & Planting Instructions: Gold Medal Tomatoes are indeterminate, meaning they produce fruit throughout the growing season and require staking or caging for support. Start seeds indoors 6-10 weeks before the last frost date and transplant outdoors when all danger of frost has passed. Plant them at a depth of 1/8 inch, spacing them 24 inches apart. These tomatoes thrive in full sun and well-drained soil with a pH of 6.0-7.0. They prefer temperatures between 75 to 95 degrees Fahrenheit and require consistent moisture and good air circulation. With proper care and maintenance, gardeners can enjoy a bountiful harvest of these unique and flavorful tomatoes.