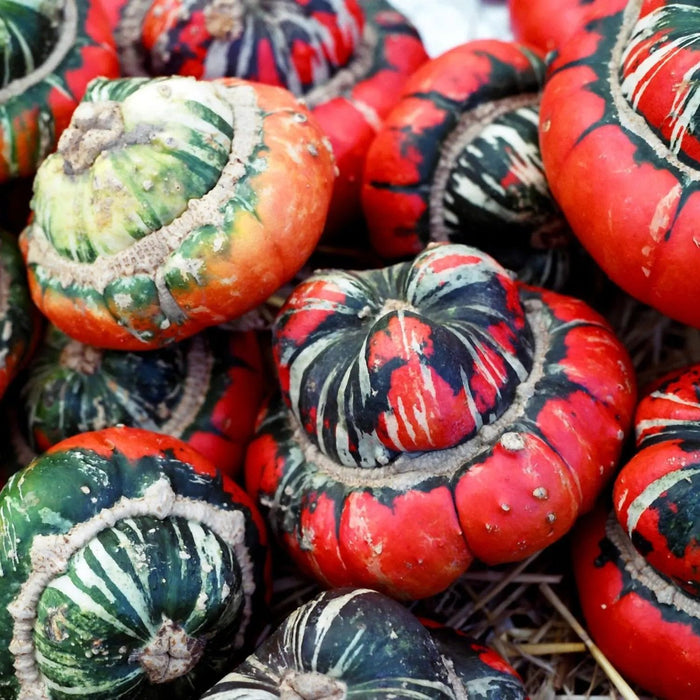 Gourd Seeds - Turk's Turban Squash
Original price
$0.00
-
Original price
$0.00
12 Seeds
80-100 Days
Bright Orange and Green Streaked Skin
Distinctive Turban Shape Can Grow Up to 12 Inches and Weigh 5 Pounds
Mild, Nutty, Sweet Flesh
Winter Squash Variety Thrives in Warm Climates
History: The Turk's Turban squash, with its flamboyant appearance and rich history, has been a beloved staple in many cultures. Originating from the ancient agricultural practices of Mesoamerica, this squash gets its unique name from its resemblance to a turban. Throughout history, it has adorned many a harvest festival and autumnal celebration. Its journey from historical farms to modern gardens showcases its adaptability and timeless appeal.
Uses: The Turk's Turban isn't just about aesthetics. Beneath its vivid skin lies a mild, nutty, and sweet flesh that offers culinary versatility. Its thick, meaty texture makes it ideal for roasting, pureeing for soups, or stuffing with grains and meats. Rich in nutrients, this squash is not just a treat for the taste buds but also a boon for health. Its unique appearance also makes it a decorative centerpiece for festive occasions, especially during the fall season.
Growing Habits & Planting Instructions: Growing the Turk's Turban requires patience but is rewarded with a splendid yield. This winter squash variety thrives best in warm climates and well-draining soil. To plant, choose a sunny location and till the soil to a fine texture. Plant seeds 1 inch deep, spacing them about 24-36 inches apart, in rows that are 4-6 feet apart. Regular watering, especially during fruit development, is crucial. As the Turk's Turban is a winter squash, it's essential to allow it to mature fully on the vine. When the stem turns brown and the skin hardens, it's a good indication that the squash is ready for harvest.
Incorporating the Turk's Turban into your garden will add a splash of color, a touch of history, and a taste of deliciousness. This squash's blend of beauty and flavor ensures its enduring place in both gardens and kitchens.