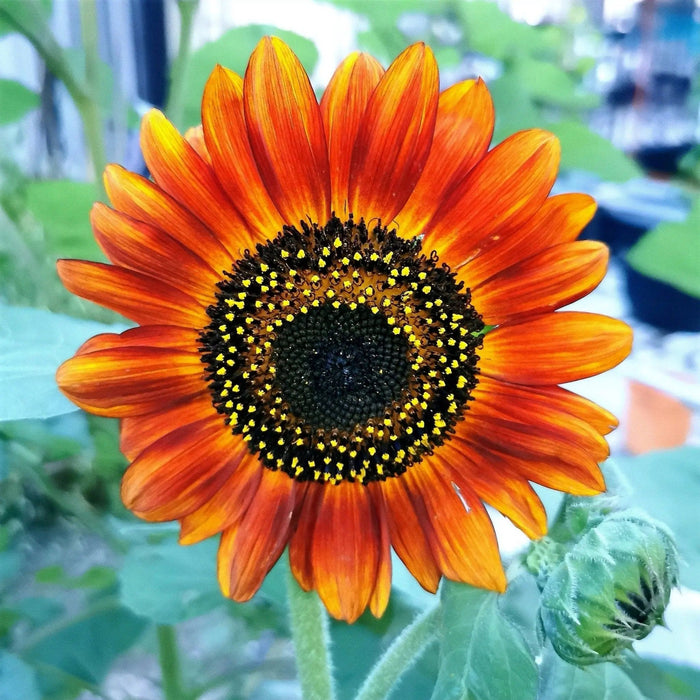 Sunflower Seeds - Velvet Queen
Original price
$2.00
-
Original price
$2.00
Seed Count: 50 Seeds
Maturity Date: 70-110 Days
Plant Height: 5-7 Feet Tall
Flower Head Size: 4 Inches Wide
Color: Deep Mahogany Petals with Almost Black Centers
Stem Color: Rich Red Undertones
Flower Density: Well-branched with Multiple Flowers
Growth Habit: Upright and Sturdy
History: The Velvet Queen sunflower is a cultivated variety renowned for its luxurious, velvet-like texture and deep mahogany-colored petals. It's an elegant departure from the traditional bright yellow sunflower and offers a dramatic, almost gothic, appearance. This unique aesthetic makes it a popular choice among gardeners looking for something a little different but equally striking. The Velvet Queen, with its complex color scheme and sturdy build, has swiftly become a favorite in both casual and formal gardening settings.
Uses: Velvet Queen sunflowers are an excellent choice for gardeners looking to add depth and visual intrigue to their outdoor spaces. Their dramatic coloration and velvety appearance make them an outstanding option for cut flower arrangements or as a stand-alone feature in a vase. Besides their ornamental qualities, these sunflowers also attract pollinators like bees and butterflies, making them useful for biodiversity. The plants are well-branched, ensuring a lush display of multiple flowers, which means you'll have plenty of blooms to admire or cut for indoor arrangements.
Growth Habit and Planting Instructions: The Velvet Queen sunflower grows upright with strong stems, reaching heights between 5 to 7 feet. They are well-suited for most garden types and can be used both as stand-alone features or as part of a mixed flower border. To plant, sow the seeds 1 inch deep in well-drained soil, spacing them about 9-12 inches apart. These sunflowers prefer full sun and should be watered regularly, especially in the absence of consistent rainfall. As they grow taller, they may require staking to ensure that their stems remain upright, especially in windy conditions. With a maturity period ranging from 70 to 110 days, these sunflowers offer a long-lasting display, enhancing the beauty and biodiversity of your garden.