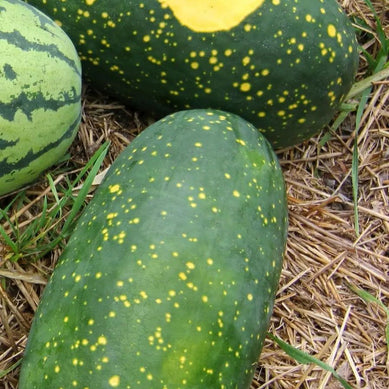 Watermelon Seeds -Moon and Stars
Original price
$2.00
-
Original price
$2.00
Seed Count: 15 Seeds
Maturity Time: 88-95 days from Planting
Size: Grows up to 15 inches long with an oval shape
Unique Features: Fruits are covered in small yellow stars and typically one larger yellow moon
Foliage: Leaves are speckled with beautiful yellow spots, mirroring the fruit's appearance
Flesh Color: Delicious, sweet pink
Historical Name: Originally named "Sun, Moon, and Stars" watermelon
Potential Size: Occasionally grows over 40 lbs
Origin & History:
The Watermelon Moon and Stars boasts a storied past that is as captivating as its celestial appearance. First introduced in 1926 by Peter Henderson & Co as the "Sun, Moon, and Stars" watermelon, its allure caught the eyes of many. However, with the passage of time, this starry fruit seemed to have vanished, leaving behind only whispers of its legendary taste and unique appearance. It was Kent Whealy, a passionate seed saver, who reignited its legacy. After tireless efforts, he rediscovered this gem on Merle Van Doren's farm near Macon, Missouri, bringing it back into the limelight where it rightfully belongs.
Uses:
Beyond its visual appeal, the Watermelon Moon and Stars is a culinary delight. Its sweet, pink flesh offers a refreshing and juicy bite, making it perfect for sunny picnics, BBQs, or simply enjoying on a warm summer evening. From watermelon salads to chilled juices, this fruit is versatile, ensuring that each slice is cherished.
Growing Habits & Planting Instructions:
Plant the seeds in a sunny location with well-draining soil. Given its oval shape and potential size, ensure ample space for each plant. Regular watering is essential, particularly during the germination phase and as the fruit starts to grow. The leaves, speckled with yellow, serve as an indicator of the fruit's health. As it matures, the watermelon will display its characteristic yellow spots, echoing the appearance of a starry night. Harvest when the fruit reaches its desired size and the rind is dark green, sprinkled with its signature yellow spots.