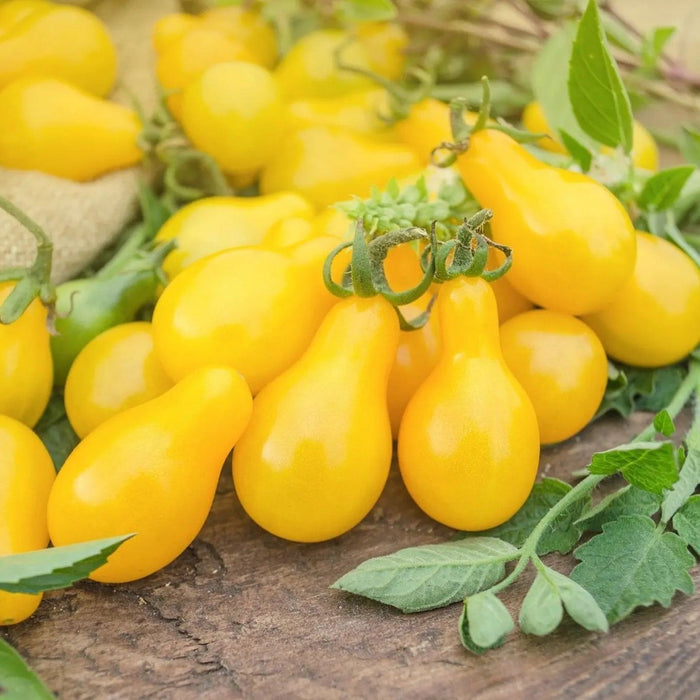 Tomato Seeds - Yellow Pear
Original price
$2.00
-
Original price
$2.00
Seed Count: 25 Seeds
Maturity: 75 Days
Growth Habit: Indeterminate
Fruit Size: 4 Oz Fruits
Plant Height: 60-70 Inches
Spread: 24-26 Inches
Color: Bright Yellow at Maturity
Flavor: Deliciously Tangy
History: Yellow Pear tomatoes are a culmination of thousands of years of selective breeding and cultivation. This heirloom variety, known for its unique pear-shaped, bright yellow fruits, has a long history that intertwines with the development of agriculture and horticulture. The variety has been maintained through generations, cherished for its distinctive shape and color.
Culinary Uses: The bite-sized Yellow Pear tomatoes are celebrated for their tangy and rich flavor, making them perfect for a range of culinary uses. Ideal for summer parties and gatherings, they can be used fresh in salads, as a colorful garnish, or as a delightful snack. Their unique appearance and exceptional taste make them a favorite for both chefs and home cooks, offering a refreshing twist to traditional tomato dishes.
Growing Habits & Planting Instructions: Yellow Pear tomatoes exhibit an indeterminate growth habit, meaning they will continue to grow and produce fruit throughout the growing season. These plants can reach a height of 60-70 inches and spread around 24-26 inches, requiring support via staking or caging. To cultivate these tomatoes, plant the seeds in well-drained soil in a location that receives full sun. Sow the seeds at a depth of about 1/8 inch and space them 24-36 inches apart to accommodate their growth. Regular watering and occasional fertilization will promote healthy growth and abundant fruit production. Expect these plants to start bearing their signature yellow, pear-shaped fruits approximately 75 days after planting.