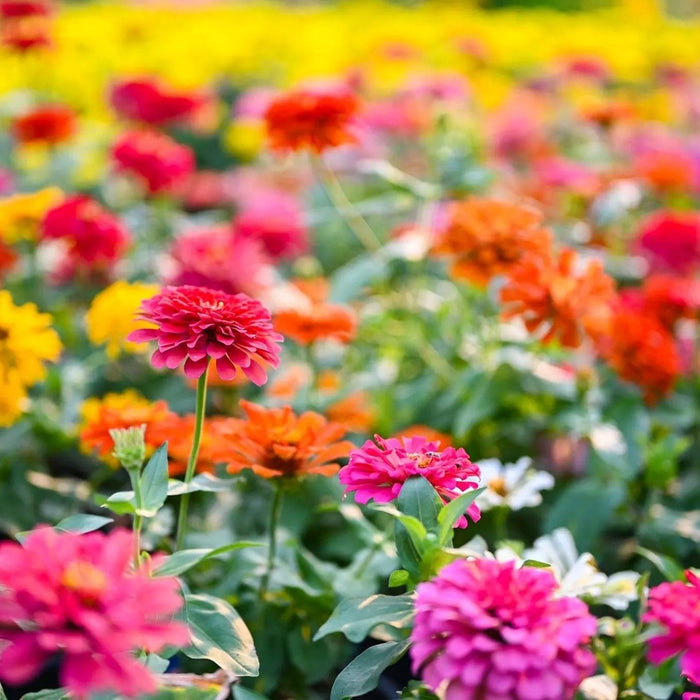 Zinnia Seeds - Lilliput Mixed Colors
Original price
$2.00
-
Original price
$2.00
Seed Count: 80 Seeds
Maturity Date: 60-75 Days
Plant Type: Annual
Height: 18-24 inches
Flower Colors: Wide range including oranges, purples, reds, roses, and whites
Flower Size: Small, typically less than 2 inches in diameter
Growing Conditions: Full sun, well-drained soil
Special Features: Bushy plants, prolonged blooming period
History: The Lilliput Mixed Zinnias, a delightful variation of the Zinnia elegans species, have charmed gardeners for years with their petite blossoms and vibrant hues. Named "Lilliput" for their diminutive size, these zinnias were bred to offer a more compact alternative to larger zinnia varieties. Originating in Mexico and later popularized in Europe and the United States, the Lilliput Mixed Zinnias have a rich history of being beloved additions to gardens, particularly where space is limited but color is desired.
Uses: Lilliput Mixed Zinnias are highly versatile and fit well in a variety of garden settings. Their small, cheerful blossoms make them ideal for container gardens, window boxes, and borders. Because of their bushy habit and prolonged blooming period, they also serve well as ground cover or fillers between larger plants. The vibrant colors attract pollinators like bees and butterflies, making your garden a hub of activity. These zinnias also make charming cut flowers, allowing you to bring the beauty and cheerfulness of your garden indoors.
Growth Habit and Planting Instructions: The Lilliput Mixed Zinnias are easy to grow and maintain, perfect for both novice and experienced gardeners. They thrive in full sun and prefer well-drained soil, although they are somewhat tolerant of less-than-ideal soil conditions. Sow the seeds directly into the garden soil after all danger of frost has passed, or start them indoors 4-6 weeks before the last frost date. Seeds should be planted about a quarter-inch deep, spaced 9-12 inches apart. Water the plants regularly but avoid overwatering, as this could lead to root rot. The plants typically reach a height of 18-24 inches and will start blooming in as little as 60-75 days after planting. For prolonged blooms and a bushier growth habit, pinch back the tips and remove spent blooms.