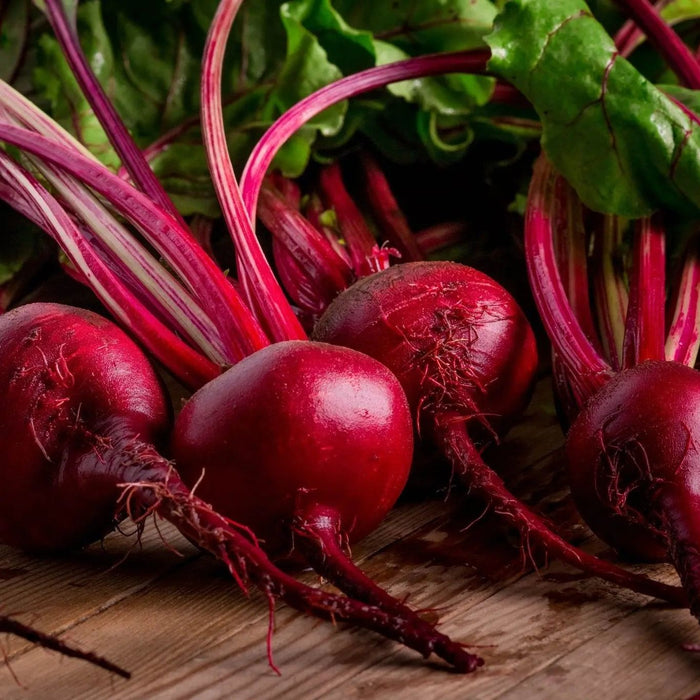 Beet Seeds - Detroit Dark Red Seeds
Original price
$2.00
-
Original price
$2.00
100 Seed Packet
Maturity: 50-75 Days
Uniform Growth at Approximately 3 inches in Diameter
Adaptable to Various Soil and Climate Conditions
Maintains Quality Even When Left in Ground
Rich Source of Vitamin C, Iron, Folate, and Antioxidants
History:
A stalwart in the realm of heirloom vegetables, the Detroit Dark Red beet has graced gardens and tables alike since its introduction by D.M. Ferry & Company in 1892. Over a century later, its enduring popularity stands as a testament to its exceptional qualities.
Taste and Culinary Versatility:
When it comes to taste, the Detroit Dark Red delivers in abundance. The roots boast a sweet and tender profile, with a fine-grained texture that shines in an array of culinary preparations, be it fresh, canned, pickled, or frozen. Beyond the roots, the tops offer their own culinary delights, reminiscent of spinach or chard in flavor, and adding a nutritious touch to meals.
Growing Habits:
A true gardener's delight, Detroit Dark Red beets exhibit quick and uniform growth, reaching a perfect spherical shape at about 3 inches in diameter. Their adaptability is commendable, thriving across varied soil types and climatic conditions. Another remarkable trait is their ability to maintain quality, refusing to turn woody or lose their characteristic taste even if left in the ground beyond their maturity.
Planting Instructions:
For a bountiful harvest, sow these seeds about half an inch deep, ensuring a spacing of around 2 inches apart. Regular watering ensures the growth of juicy, tender beets. As they mature, occasional thinning is advisable to let the most promising specimens flourish.
Summary:
The Detroit Dark Red beet encapsulates the essence of what a classic heirloom should be: reliable, delicious, and timelessly cherished. Whether you're a seasoned gardener or just starting, the Detroit Dark Red promises a rewarding experience, both in the garden and on the plate. Start your beet journey with seeds from the Alliance of Native Seedkeepers.