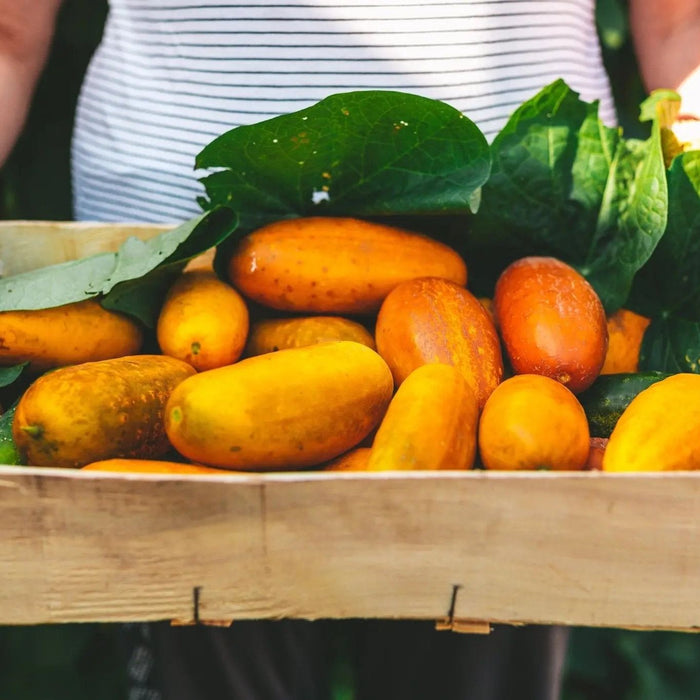 Cucumber Seeds - Poona Kheera
Sold out
Original price
$2.00
-
Original price
$2.00
25 Seeds
55 Days from Planting/Transplanting
Can grow in high heat
Harvested year-round with adequate moisture
Starts with smooth white skin, maturing to golden-yellow and finally russet brown
Awarded India's National Vegetable of the Year in 2009
Disease-resistant
Tender and tasty flesh
History: The Poona Kheera cucumber boasts a legacy that seamlessly blends heritage with recognition. Originating in India, this vegetable stands out not just for its distinct appearance but also for its impeccable taste and texture. It captured the attention of many when, in 2009, it was honored with the title of India's National Vegetable of the Year. This accolade not only positioned it as a household favorite in its native country but also paved the way for its introduction and popularity in the US and other parts of the world.
Uses: While the Poona Kheera might look like an oversized russet potato, its use and flavor profile are quite distinct. Its smooth skin undergoes a fascinating transition in color - from pristine white to a radiant golden-yellow, and finally to a deep russet brown as it matures. Underneath this captivating exterior lies tender flesh that is both delicious and versatile. Whether you choose to eat it raw in salads or incorporate it into culinary creations, its unique taste enhances every dish it graces. Apart from its culinary uses, its smooth texture also makes it a sought-after choice for skin treatments in traditional practices.
Growing Habits & Planting Instructions: Cultivating the Poona Kheera cucumber is a rewarding endeavor, especially given its resilience and adaptability. This cucumber variety has a special affinity for high heat, making it suitable for regions with warmer climates. Plant the seeds about an inch deep in well-draining soil, ensuring they receive ample sunlight. One of its standout features is its ability to be harvested year-round, as long as there is a consistent supply of moisture. This ensures that gardeners and farmers have a regular supply of these delicious cucumbers throughout the year. Its natural resistance to common diseases further simplifies its cultivation, making it an excellent choice for both novice and seasoned gardeners.